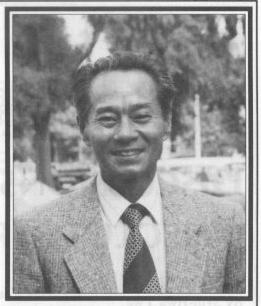 (編按:最近抵達萬佛聖城的義務教師中,教學經驗最豐富的是李傳喜老師。他是淡江中文系,政大教育研究所碩士班畢業,曾在樹林國中、中山國中、淡江工商、育達商職、景文高工等校,先後任教三十餘年。得知萬佛聖城中、小學徵求義務教師後,李傳喜老師表示,決心奉獻自己的教學專長,這是他的一個願力。)
一九八二年冬,由於某些老師不遵守規定,造成十多位學生受傷,而送進醫院治療。當主管的我,難免受到指責,雖錯不在自己,但內心十分痛苦與難過。就在這時候,學校裡有一位老師是虔誠的佛教徒,送一本<大悲咒>給我,她告訴我,好好地念<大悲咒>,虔誠地念,一心不亂地念,學生自然而然會聽話的。就此結了佛緣,一家人也都陸續皈依佛門。
之後上課時,常向學生們談論、講解基本學佛的概念,以及佛學、經典之類的知識。
三年前,我開車載兩位信徒前往銅鑼九華山大興善寺朝拜,回程在高速公路上,大客車擦撞小貨車,我正開車跟在後面數尺而已,我心想這一次完了,心中不停地默念著阿彌陀佛的聖號,就在這瞬間,我躲過了災難,逃過了一劫。
從此之後,我更加向學生宣揚佛法,也許師生都是有佛緣吧!
(Editor's Note: Among the volunteer teachers who arrived recently at the Sagely City of Ten Thousand Buddhas, Lee Chywan-syi has the most teaching experience. A graduate of the Chinese Department of Tamkang University and the Master's program in Education at the Graduate School of National Cheng Chih University, he has been teaching for over thirty years at various schools: the Junior High Schools of Shu lin and Chung Shan, the Yu Da Technology and Chin Wen Commerce Schools at Tamkang. After he learned that the Sagely City of Ten Thousand Buddhas sought volunteer teachers, he decided to contribute his teaching talents. The following is a statement of his resolve.)
In the winter of 1982, over ten students in our school were injured and had to be sent to a hospital for treatment, because some teachers failed to follow the rules. Since I was the person in charge, unavoidably, I was accused of the error; even though it was not my fault, I felt very bitter and sad. Right then, a colleague who was a devout Buddhist gave me a copy of the Great Compassion Mantra. She told me that if I read it sincerely and single-mindedly, my students would naturally become compliant and obedient. This was the source of my initial affinity with Buddhism, and later on, my entire family took refuge with the Triple Jewel.
Afterwards in class, I frequently explained and discussed the fundamentals of Buddhism and its concepts and doctrines that I read in Buddhist books and Sutras.
Three years ago, I was driving a car with two Buddhist friends on a pilgrimage to Da Sying Shan Sz (Great Flourishing of Goodness Monastery) at the town of Tung Lwo in Taiwan. On the way back on the freeway, a bus hit a pick-up truck, while I was driving right just a few feet behind. I thought I was finished this time and recited the name of Amitabha Buddha in my mind without stop. As a result I escaped from disaster and avoided a fatal mishap.
Ever since then I have been propagating the Dharma more diligently and perhaps all my new students have an affinity in Buddhism with this teacher !