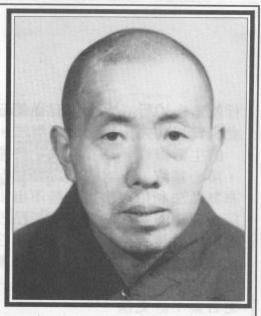 我十五歲輟學就商,自家經營一家小雜貨店。父親是佛教徒,南京有一位明蓮老和尚,雲遊訪道,家藏經典,經道友介紹,由家父請歸。這便是我學佛的因緣。初學《六祖壇經》,以經偈諦觀自性。
十七歲共產黨來了,家境驟變,受到嚴重的考驗,各種的困境,紛至沓來。如置身大海,四顧茫茫。一葉扁舟,搖搖欲墜。每每愁憂填胸時,唯有菩薩加被,頃刻天朗氣清,惠風和暢,今人心曠神怡。
後皈依南京毘廬寺二老映徹老和尚,由於況境變,心境也變,身安而道隆,雖然處境艱難,猶如寒梅傲然凌霜。
當我閱讀虛雲老和尚傳略,十分嚮往,可是問津無門。一九五九年時,獲悉老人駐錫江西雲居山。通信後,賜諭四函,法喜充滿。最後老人說:唯仁者珍重奮勉。當年秋季,去信二封,未見回音,即刺血寫了出家發願文寄去。一週後,映公給人帶回信說虛公圓寂。
為了出家,各處奔走,二次赴天台,五次去蘇州、南京、鎮江,各處馳驅,未能遂願。五十歲那年,始完初願,在南京江浦縣師子嶺依圓霖法師剃度。第二年去江西如日山受三壇大戒。
My school days stopped when I was fifteen and I began to help run the family-owned drugstore. In Nanjing, an Elder Master Ming Lyan, who had a collection of Buddhist Sutras, was going out travelling to learn the Dharma. A fellow cultivator introduced my father who was a Buddhist to him. Through his auspices, my father brought back his collection of Buddhist Sutras. This was the circumstance that lead to my study of Buddhism. Upon reading the Six Patriarch's Platform Sutra, I learned from its verses how to carefully contemplate one's inherent nature.
At seventeen, the Communists arose and our family situation changed rapidly. All kinds of problems arose and we had to face serious tests. It was like floating out alone in the sea, with endless horizon stretching out on every side. It was like a tiny boat shaking, and being on the verge of sinking... I felt totally hopeless. Whenever I suffered from worries and miseries, with the aid of the Bodhisattva, situations would change instantly. Fine weather returned to my life and a gentle breeze cooled me. The relief that arrived with the help of the Bodhisattvas felt pleasant and my spirits were uplifted.
After I took refuge with Elder Master Ying Che at Vairochana Monastery in Nanjing, my situation changed and so did my state of mind. When the body is at peace, naturally the Way will flourish. Though I still had to pass through a time of troubles, the adversity helped me along, just like the frost helped the plum to blossom proud and indomitable in the midst of the cold.
When I read the biography of the Venerable Master Syu Yun, I admired him very much but had no way to approach him. In 1959, I heard that he was staying at Mt. Yun Jyu in Jiangxi Province. I wrote him letters, and with the blessing of the Dharma, he sent me four letters. At the end of his correspondence, the Elder said, "I wish you, Humane One, will take good care of yourself and cultivate diligently." In that fall, I sent him another two letters and got no response. I wrote my resolve to leave the home-life in blood and submitted it to him. One week later, Elder Ying sent me an oral message that the Venerable Master Syu Yun had passed away.
I traveled all over the place in order to leave the home-life, two times to Tyan Tai, five times to Suzhou, and I also went to Nanjing as well as Chengjian, and yet got no results. In my fiftieth year, my initial resolve was fulfilled in Nanjing. At Shr Dz Ling (Lion Peak), my head was shaved by Dharma Master Ywan Lin. The next year I received the Three-fold Platform of Great Precepts at Ru Ri Mountain Temple in Jiangxi Provience.