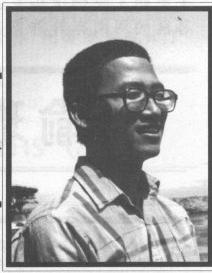 由於向來從事科學研究,因此凡事講求證據,眼見為信、無神論及人本主義一直是我生活的中心思想,平時則以儒家學說作為檢討反省的依據。以前我想宗教行為只是提供人們心靈上的寄託,卻何曾悟及宗教之一的佛教,竟會是唯一能夠解決宇宙人生奧秘的途徑。

一九九一年初,我正致力於生命科學的研究--從物理學的觀念出發,去了解細胞的生命現象及其特質。此時受到二位佛友的引領,後經由師父宣化上人的開示,我開始以邏輯推理及自身體驗,對宇宙、人生作廣泛深入的研究,進而為佛教無限殊勝的領域所吸引。我發現到宇宙間有許多遠超過科學範疇所能解釋的事與理,研讀《楞嚴經》,才知道原來佛理是如此地嚴密不可破,其內涵的深遠高廣,豈是今日科學僅以物質、能量看世界所能比擬。

佛教中法門無量,到目前為止,自己似乎以參禪、讀經、修習止觀較為應機。我幸得善知識的導引,以師父的開示錄為啟蒙,《楞嚴經》為入門,又得地利之便,可從柏克萊加大的東亞圖書館借閱佛教典籍,此外也參加萬佛聖城的禪七、觀音七,以體驗各種不同的法門,其中的收穫是既豐富又不可言喻的。

(編按:姚文萱居士現任金山聖寺育良小學義務校長)
Because I have always been engaged in scientific research, I need to see facts in every case, and I believe only what I witness with my own eyes. Atheism and humanism have been main philosophies in life, but usually I would base myself on Confucianism for my inner reflections. Religious activities, to me, were simply a reliance for people's spirits. And I was not aware that Buddhism, one of the world's religions, happened to be the only path to actually open up the wonders of life in the universe.
In the beginning of 1991, I was focusing on research in the life-sciences -- and I based myself on concepts in physics to understand the phenomenum and nature of the life of cells. Having received the guidance of two fellow cultivators and later on, the instructions of the Ven. Master Hsuan Hua, I began to undergo extensive and deep investigations into the universe and into life, using logical reasoning and my own experiences, and I was greatly fascinated by the limitless range of Buddhism. I found out there are many things and principles in the universe which are far beyond the scope of science. After I investigated the Shurangama Sutra, I realized Buddhism is so precise and accurate that it can't be refuted. The content of Buddhism is deep and vast. How could science be compared with Buddhism, since science limits its scope to aspects of matter and energy?
There are immeasurable Dharma doors in the Buddha's teachings. Up to now, it seems more appropriate for me to practice Chan meditation, to recite the Sutras, and to practice "contemplation & stopping." I am so fortunate to have the guidance of a Good and Wise Advisor, and to begin with the instructional talks of the Ven. Master and to start my study of Buddhism with the Shurangama Sutra. Moreover, because of the advantage of the location, I am able to borrow Buddhist books from the East Asian Library at U. C. Berkeley. And I took part in Chan Sessions, and Gwan Yin Bodhisattva Recitation Sessions at the Sagely City of Ten Thousand Buddhas. I encountered many different practices, and my achievements were rich and inexpressably fine.
(Editor's note:Layperson Yau Wen-hsuan is currently the Honory Principle of the volunteer teachers at Instilling Goodness Elementary School at Gold Mountain Sagely Monastery.)