【本刊訊】萬佛聖城培德中學九三年畢業典禮,於六月十六日在聖城道源堂舉行。男校代理校長恆覺法師期勉畢業同學,將平日所學爲人處世的道理,帶到社會上。校董會主席果澤博士致詞時表示,希望學生們將學問與做人的道理結合,來追尋究竟的眞理。女校由畢業生恆深法師致詞,在校同學並表演話劇歌唱,獻上她們虔誠的祝福。家長們及與會來賓,見到學生的進步,特別藉此向女校校長果參居士致謝。以下是畢業生代表恒深法師致辭內容:
法師、校長、各位老師、各位家長,以及各位同學們:
今天是我高中生活的最後一天,雖然要畢業了,但是心中有許多話要說。最主要的我想告訴大家,我很高興二年前父母親能送我到這裡,來繼續我的高中學業。二年來在萬佛聖城求學的經驗,是很寶貴的,也將是我長久的回憶。
我以前就讀的學校有三千名學生,和這樣的學校相比,我們的學校眞的是很小。但是從敎學的成果,與學生人格的發展上來說,很明顯(原文有然字)地可以看出它是一所很好的學府。在學校裡,學業與精神的成長是並重的。學習現代的科技使我們能面對未來的工作所需與挑戰。而在儒家哲學思想與道理的薰習中,我們建立出對當今世界的新觀念,並且改進了我們自己的生活。我們有來自世界各地不同文化背景的學生,每個人有不同的國籍、語言和宗教。雖然有這麼多種的差異,我們卻相處得很融洽,有如一個大家庭。我們在校學習如何尊敬關懷老師及同學,而每天日用,也是在道德的躬行實踐。雖然過著團體生活,同時卻又能保持個人獨立的思想發展。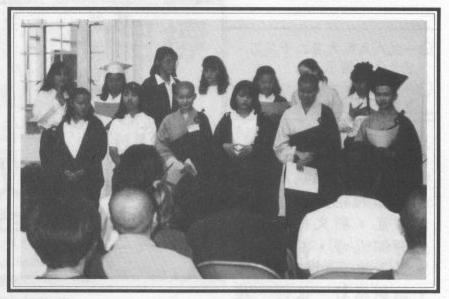 培德中學一九九三年畢業典禮
Developing Virtue High School's Commencement 1993
二年來在寺廟中生活,又能在佛教學校讀書,這其中我所學到的,遠比在其他任何地方都多。因此更堅定了我對佛教的信仰,同時也讓我有機會看到,城內的住眾學習在生活中實踐六大宗旨-不爭、不貪、不求、不自私、不自利、不妄語。由衷地感謝上人和我的父母所賜予的機會,以及師長、同學在學業上所提供的幫助與鼓勵。
在此獻上我衷心的感謝,祝福所有的老師,對於教育學生這份神聖的工作都能樂在其中。也希望各位同學學業快樂,未來能順利成功。
(Announcement) Developing Virtue High School's Commencement at the Sagely City of Ten Thousand Buddhas, took place at the Tao Ywan Hall on June 16, 1993. The Acting Principle, Dharma Master Heng Jywe, in his keynote address encouraged the Boys'-school graduates to use the principles they have learned for dealing with people and with the world wherever they go in the Society. Susan Rounds, the Chairman of the School Board Committee, encouraged students to combine their academic studies with their education in values in their search for ultimate truth. Dharma Master Heng Shen, a graduate of the girl's school also gave a speech. The girl students performed a play and songs to express their sincere best wishes. Seeing the progress the students have made, the students' parents and guests expressed their appreciation to the Girls' School Principle, Terri Nicholson. Following is the speech of Dharma Master Heng Shen, the graduate student of the Girls' school:
All Dharma Masters, the Principle, Teachers, Parents and all my friends,
Today is my last day in high school, and there is much that I want to say regarding my feelings about my school experience. One thing I'd like to emphasize here is that I'm really pleased and proud of my parents' decision two years ago to send me here to continue my studies. These two years of high school education in the City of Ten Thousand Buddhas have been a precious experience and will serve as a lasting memory for me. This school is relatively small compared to my previous high school which has nearly 3,000 students. Developing Virtue School, however, has some distinctive and significant features that make it stand out as an excellent place for both academic training and character development. Here in the school we put equal weight on academic studies as well as spiritual growth. We learn modern science and technology in order to prepare ourselves to face future tasks and challenges. Simultaneously, we bring along the collective philosophical knowledge and teachings of Confucianism with our studies so that we will be able to create and develop a new perception of the contemporary world, and further make changes to improve our lives. Here we have students from all over the world with varied cultural backgrounds. They are many different nationalities, different languages, and different religions. Yet despite all these differences, we're able to get together harmoniously as a big family. In the school, we're taught to be respectful and considerate toward our teachers and friends. The concept and practice of morality is central to our everyday life. Here we live as a group, yet at the same time each of us sticks to our own principles and sustains herself as a unique individual.
Living in a Buddhist monastery and studying in a Buddhist school for these two years, I learned more than I could have learned in other places. It has not only solidified my faith in Buddhism, but has also given me a real opportunity to see the whole community, living and practicing their lives according to the Six Guiding Principles of not fighting, not being greedy, not seeking, not being selfish, not pursuing personal advantages, and not lying. I really appreciate all these chances that have been given to me by the Venerable Master, my parents, and all the teachers and friends who have helped and encouraged me throughout my years of studies.
Here, with a whole-hearted appreciation, I wish all the teachers will enjoy their sacred job as life-guides for the students. As for my friends, I wish them to be well and happy in their studies, and be successful and prosperous in the future.