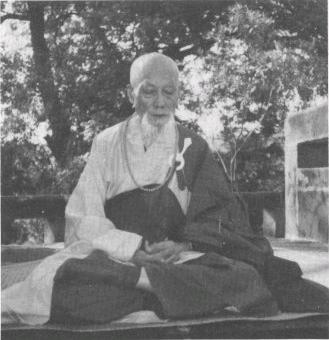 ■離欲禪師
Chan Master Li Yu

位於四川省樂至縣的報國禪寺,是始建於隋唐時期的古剎。千餘年來歷盡滄桑,幾已淪為廢墟。可是,今天的報國禪寺,綠樹成蔭,殿宇重輝,以一座莊嚴梵剎的新姿展現出來,這不能不提到不久前圓寂的老方丈-離欲禪師了。
離欲禪師,一八八七年生於四川省合川縣泥溪鄉。俗名侯喻君,秉性剛毅,智慧超人。家世經商,師年十五,家道衰落,一貧如洗。一日在姑母家,偶閱《金剛經》,頓有所悟。從此,看破名利,離家訪道。一九二二年,在射洪縣東山禪寺,依本空、思摩二位老禪師披剃,法名覺空,字離欲。修頭陀行,難行能行,難忍能忍,寒暑不輟,歷時十三載,忽然大悟。
思摩禪師者,不知何處人,據傳為清乾隆時進士,俗名李君蓮,年約二百歲,行事神異,言語顛倒,射洪一帶皆呼為「瘋師爺」,而極受崇敬。師當時立志出家,但因無人作保,寺院皆不接收。而思摩禪師一見,知為法門龍象,親自擊鼓並高呼:「迎接大和尚!」此後,為接引其「升堂入室」,常痛下鉗錘,有時棒打腳踢交加,而師道心愈加堅定,愈加深切懺悔,虔誠頂禮,虛心受教,終蒙密授心印。
師繼於新都寶光寺方丈祖道禪師座下受具,並承寶光堂上無窮老和尚,付予衣缽,法號圓空,為臨濟宗第二十一代禪師。
師於晚年,每憶及當年學道情景,常慨歎說:「現在的青年人,連一句重話都受不了,一點委曲也不能受哦!」師悟道以後,遊化各地,建寺弘法。
一九三零年,由中江縣行腳至樂至縣報國寺,該寺為始建於隋唐之千年古剎,年久失修,殿宇傾圮。師身著破衲衣,背負爛蒲團,來寺掛單。正值舉辦觀音法會,四眾麋集。師聲稱自己是窮和尚,別無供奉,願在殿上打坐七天七夜,陪伴菩薩。眾以為妄人,會首謝某說:「你如果真能打坐七天七夜,不吃不喝,我願拜你為師,留你當住持。否則逐出山門!」並派人監視。
待續
Bau Gwo Monastery, an ancient Buddhist Way-place built during the Swei dynasty, is located in Le Jr County of Sz Chwan Province. For over a thousand years it had passed through so many changes it was on the point of being totally abandoned. But the Bau Gwo Chan Monastery of today is shaded by luxurious trees and its halls shine with light. It's a new and adorned pure monastery. In order to explain this dramatic change, we must mention the former Elder Abbot Chan Master Li Yu who has recently passed into tranquility.
Chan Master Li Yu was born in 1887 in Ni Syi Village, He Chwan County, Sz Chwan Province. His lay name was Hou Yu-jyun. He had a strong character and his wisdom surpassed the ordinary. His family members were merchants. When the Master was fifteen years old, the family business went bad and his household became poor. He went to live with his paternal aunt. One time he happened to read the Vajra Sutra and had a sudden awakening. From then on he saw through fame and wealth. He left home in search of the Way. In 1922 at Dung Shan Chan Monastery in She Hung County, his head was shaved by Chan Masters Ben Kung and Sz Mwo. He was given the Dharma name Jwe Kung (Awakened to Emptiness). His ordained name was Li Yu (Apart from Desire.) He cultivated ascetic practices. He practiced what was difficult to practice; he bore what was hard to bear. He never stopped, through summers and winters. Continuing that way for thirteen years, he had a sudden great awakening.
As to Chan Master Sz Mwo, no one knows where he came from. It's said that he passed the Jin Shr level in the civil service exams of the Ching Dynasty. His layname was Li Jyun Lyan. He was about two hundred years old and his conduct and way of doing things was very different from ordinary people's. His language was upside-down and backwards, and so all the people of She Hung called him "The Mad Man," and yet everyone held him in respect and awe. At the time when Master Li Yu decided to leave the home-life, he had no one to act as his model, and the monastery would not accept him. But when Chan Master Sz Mwo saw him, he knew the Master would become a "dragon or elephant"--an extraordinary person--within the Dharma, and 'so he personally made the announcement: "Let us all welcome the Great High Master!" In order to help him come to accomplishment quickly, Master Sz Mwo constantly applied pressure to whip him into shape. Sometimes he beat the Master with a club, or kicked him. But this only proved to make Master Li Yu's mind in the Way more firm and caused him to repent and reform more and more deeply. He bowed sincerely and humbly received the instruction. Actually, in this way he was silently, secretly receiving the Mind-Seal Transmission.
Later, Chan Master Li Yu received the complete precepts from Chan Master Dzu Dau at Bau Gwang Monastery in Syin Du. Further he received the bowl and robe from Elder Master Wu Chyung of Bau Gwang. His Dharma name became Ywan Kung (Perfect Emptiness) and he became a Twenty-first generation Chan Master in the Lin Ji Sect's lineage.
At the end of his life, the Master, whenever he recalled the details of his early days of cultivation, would sigh and say, "Young people of today can't take a single harsh word. They can't stand to be misjudged in the least." After the Master's awakening, he went about everywhere teaching, establishing monasteries, and propagating the Dharma.
In 1930, the Master went from Jung Jyang Province back to Le Jr County's Bau Gwo Monastery, had been built in the Swei Dynasty. It was old and dilapidated. The hall's eaves were broken and falling off. The Master was dressed in tattered clothing and carried a worn sitting mat as he came to stay as a temporary visitor at the Monastery. It happened that a Gwan Yin Session was about to begin--the four assemblies had all gathered. The Master called himself a poor monk and said that he had nothing to offer. He asked if he could sit in the hall for seven days and seven nights to keep the Bodhisattvas company. Everyone thought he was a liar. President Sye said, "If you can really sit for seven days and nights without eating or drinking, I will bow to you as teacher and will invite you to stay here and be the Abbot. Otherwise, you can get out." Then he sent someone to keep an eye on the Master.
To be continued