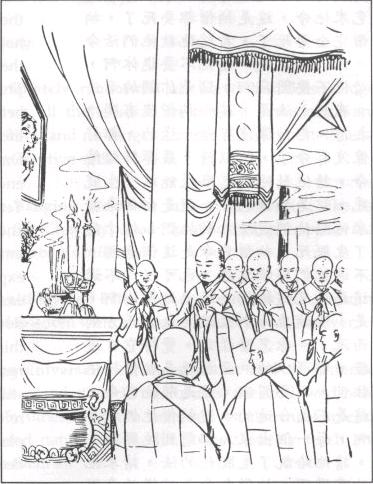 度輪九月十五日聞訊。十六日召集全體護法開會。議決十七日起念佛七三期。四眾參加者甚眾。十月初十日起七。誦大般若經六百卷。為期一百四十日。越年三月初一日圓滿。壜設跑馬地成和道。一號A愉園大廈。十二樓。佛教講堂。四眾隨喜踴躍。又派人迎請舍利。建塔供養。
宣化偈曰:
痛我天人師上師。成彼淨土聖中聖。
惟望憐憫生中生。再來度化情無情。
On the fifteenth day of the ninth lunar month, Dharma Master Du Lun received the news of the Master's Parinirvana and called a meeting of all protectors of the Dharma on the sixteenth. It was decided that starting on the seventeenth, a three-week Buddha recitation session would be held. The session was very well attended by bhikshus, bhikshunis, upasakas, and upasikas. On the tenth day of the tenth lunar month, a session in which the Six Hundred Roll Mahaprajnaparamita Sutra was continuously recited for one hundred and forty days. It was completed on the first day of the third lunar month of the following year. A memorial altar was set up at the Buddhist Lecture Hall, 31 Wong Nei Chung Road, 12th Floor, Suite A, of the Yu Yuan Building in Hong Kong. Many people joyously took part, and a person was sent to bring back the Master's sharira to enshrine in a stupa for veneration.
Hsuan Hua said:
How sorrowful! Our Master, who surpasses the masters of people and heaven,
Is now a Sage among the Sages in the Pure Land.
May he take pity on all living beings,
And come again to teach and save both sentient and insentient beings!