蓮池大師掛褡一菴。有人擒蜈蚣數條。以竹弓弓其首尾。師贖放之。俱半死惟一全活。急走而去。後師共一友夜坐。壁有蜈蚣焉。以木尺從旁竭力敲振。驅之使去。竟不去。師曰。昔所放得非爾耶。爾其來謝予耶。果爾。吾當為爾說法。爾諦聽。毋動。乃告之曰。一切有情。惟心所造。心狠者化為虎狼。心毒者化為蛇蠍。爾除毒心。此形可脫也。言畢令去。則不待驅逐。徐徐出窗外。友人在座。驚歎希有。時隆慶四年事也。
【白話註解】 明朝穆宗隆慶四年,蓮池大師行腳止宿一寺,見人擒捉數條蜈蚣,用竹弓繫住頭尾,大師憐憫買來放生,但多數已經半死了,只有一條全活,急速逃生而去。
後來有一夜,大師正和一位朋友坐談,壁上忽然出現一條蜈蚣,用木尺從旁邊用力敲振,想驅逐牠走,竟然不去。大師說:「難道以前所放生的就是你嗎?你是為謝恩而來的嗎?假若是的話,我當為你說法,願你諦聽?『一切有情,唯心所進。心地狠戾的,化作虎狼。心地惡毒的,化作蛇蠍。你若除去毒心,就可解脫這個形體。』」說罷叫牠走,卻不用驅逐,就慢慢地從窗外走出去了,朋友在座,不禁同聲歎為希有。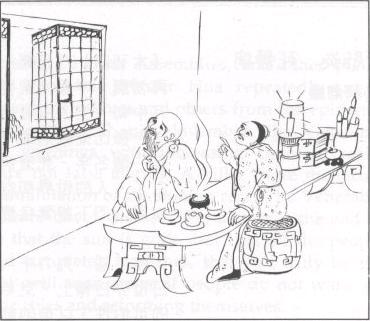 One day, in the fourth year of the reign of Emperor Mu Dzung of the Ming Dynasty, the Great Master Lyan Chr stopped by at a monastery. There he saw someone catch a number of centipedes, put them inside a stick of bamboo, and lean the stick up against the wall. The Great Master felt sympathy for the creatures, and so he bought them to set them free. But by that time, all except one had already died; he quickly took the live one away and released it.
Later on, one night, the Great Master was sitting and chatting with a Dharma friend, when suddenly a centipede crawled up the wall beside him. He tried to nudge it away with a wooden ruler, but it wouldn't budge.
The Great Master said, "Are you the one whom I bought and set free? Did you come to express your gratitude for kindness? If you are the one, then I will speak the Dharma for you, and I hope you will listen well. 'All sentient beings are created by the mind alone. One with a fierce mind will be born a tiger or a wolf in his next life. One whose mind is filled with poison will become a centipede. If you can change your poisonous mind, you will be liberated from the terrible body of a centipede.' "
As soon as he finished speaking, the centipede walked away without being pushed. Then it slowly climbed out through the window and was gone from sight. When Great Master Lyan Chr and his friend witnessed that, they agreed the incident was rare indeed.