我自幼喪父,二十歲時,家母領著全家成為「法界佛教贈經會」(以下簡稱「法界」)會員,因此因緣而慢慢認識了佛法。
一九八六年二月,上人的三位出家弟子到臺灣弘法。當時善根成熟,我開始學習佛法,並進入法界幫忙。法界佛教贈經會的工作將上人所講的經典及開示,印行成書,使流通於臺灣、海外,乃至全世界,令更多的人能知道佛法。佛經深奧難解,但上人所釋的經典卻是深入淺出,易於明瞭的。在我們把印贈的經書寄往各地,或有各界善男信女來請經書時,就是我們義工人員最歡喜的時候了。
一九八九年十月,上人再次回臺灣弘法,幸運的我經母親答應後,向上人請求出家。而「正法佛學院」學生及法會義工人員,共計二十三位同時發心出家。我立志以出家修行來盡最大的孝道。當時並發願生生世世能出家修行,使佛教發揚光大,這也是我們二十三人共同的願力,師父上人都慈悲攝受。出家後,更體會上人用心良苦,一心要栽培我們成就法器。也因此我們決定到萬佛聖城讀四年制的「僧伽訓練班」。
出家後受具足戒至今一年多了,自己不能成器,實在感到慚愧不已。但願能改變自己的習氣毛病,除去貪瞋癡三毒,並且發願精進持戒。願我將來能把佛法帶到世界各國,還有我的祖國-中國大陸;讓那些不懂得佛法的人能了解佛法,讓佛法能拯救世人心靈。我願追隨師父的願力,去發揚佛法,去教育下一代的孩子,皆能以萬佛聖城六大宗旨依教奉行。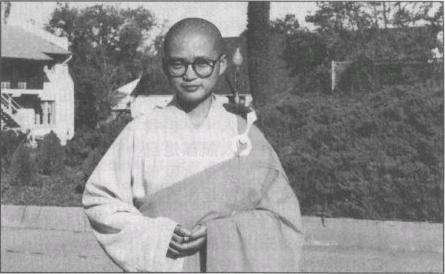 I lost my father in childhood. When I was twenty, my mother led the whole family to join the Dharma Realm Buddhist Scripture Distribution Society. From this I gradually came to know the Buddha Dharma.
In February of 1986, three of the Venerable Master's left-home disciples came to Taiwan to propagate the Dharma. My good roots ripened and I started to study the Buddha Dharma and help out in the Society.
The Society's main responsibility is to compile the Venerable Master's commentaries on Sutras and instructional talks into books, publish them and distribute them in Taiwan, overseas and throughout the world to introduce more people to Buddha Dharma. Because Buddhist Sutras are so profound, they are difficult to understand. But the Venerable Master's commentaries make these Sutras easy to understand. We would distribute the Sutra books everywhere. As volunteer workers, it was our happiest moment when people came to request books.
In October 1989, the Venerable Master came to Taiwan again to propagate Buddhism. After receiving my mother's blessings, I requested the Venerable Master to accept me as a left-home disciple. Altogether, twenty-three students of the Academy and volunteer workers of the Society resolved to leave the home-life. We all vowed that in life after life, we would leave the home-life to cultivate, causing Buddhism to flourish. The Venerable Master compassionately accepted us. Knowing that the Venerable Master would spare no effort to train us to become vessels of the Dharma, we decided to come to the Sagely City of Ten Thousand Buddhas to enroll in the Sangha Training Program.
It has been one year since I received the complete precepts, but I must shamefully admit that I have not become a Dharma vessel. I only hope to change my bad habits and faults, get rid of my greed, anger and stupidity, and vigorously uphold the precepts. I also hope someday to bring the Buddha Dharma to all parts of the world, including my motherland, mainland China, to cause those don't know the Buddha Dharma to know it; to save people's minds with Buddha Dharma. I wish to follow the Venerable Master's vow to propagate Buddha Dharma and to educate the future generations to all uphold the Six Great Principles of the Sagely City of Ten Thousand Buddhas.