恭喜你們各位已現比丘尼相,這是無量劫最殊勝的因緣,由比丘尼向前邁進乃至成佛得不退轉。現在是末法時代,什麼叫末法時代?即是佛法快斷絕。為什麼佛法快斷絕?因為沒有真正要修行的人,所以佛教一天比一天式微,一天比一天衰弱下來,現在你們做了比丘尼,要立沖天志願,為佛教增光,為佛教爭一口氣,做佛的好子女,做佛的好弟子。雖然說是末法,如果有人願意修行的話,末法也會成正法,所以說「人能弘道,非道弘人。」雖然說是末法時代,你們要做個頂天立地的人。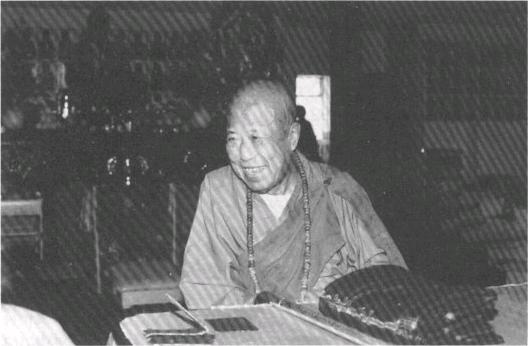 宣化上人德相 Venerable Master Hsuan Hua
在末法時代為佛教增光,你們不要從小方面看,要從大方面去看。既沒有人修行,我們要往真修行。真修行就是:不爭、不貪、不求、不自私、不自利、不打妄語。如果你們能把這六大宗旨抱定,就是佛真正的弟子,如果不往這六條大路走,你恐怕對佛教沒有什麼利益,末法時代希望你們立下頂天立地的志願,不要和一般修行人一樣,不要同汙流俗,染於汙泥,做德中之賊,這是我對你們的期待,希望你們努力去做。
Congratulations to you new Bhikshunis. You have already manifested the appearance of Bhikshunis. You should recognize that your ability to leave the householder's life and become Sangha members results from causes and conditions planted down in limitless eons in the past. Now you should continue to advance and become Buddhas. Do not retreat.
This is said to be the time of the Dharma's Demise. What does this mean? They say the Buddhadharma is about to disappear. Why is that? It could disappear because there are no real cultivators to keep the Dharma alive. Thus the state of the Dharma falls lower and lower each day. Since you have become Bhikshunis, you should now make vows and be clear about your purpose. You have come to increase the light of the proper Dharma a bit, and to infuse this world with a bit more proper energy. You have come to serve the Buddha as filial children. If in the Proper Dharma Age, everyone refuses to cultivate, then that good era becomes the Dharma's Ending Age.
People propagate the Dharma, it's not the Dharma that propagates people!
Our job is to act as strong and courageous heroes, servants to the Buddha, people who boost the brightness of the light of the Dharma. Don't see only what's before your eyes and feel satisfied with that much. Look at the world from the standpoint of the Buddhadharma as a whole. Bring forth the great Bodhi-resolve, and know that the real cultivation is found in not fighting, not being greedy, not seeking, not being selfish, not benefitting the self, and not telling lies. If you can resolutely uphold these six guidelines, then you will be a true son or daughter of the Buddhas. If you go against these six roads of bright light, then you will not be able to help Buddhism.
After you receive the precepts, you should all make progress, and advance. Do not retreat. Don't just flow along with the common lot, and become "thieves among the virtuous." This is my wish for you today on this auspicious day. Work hard!