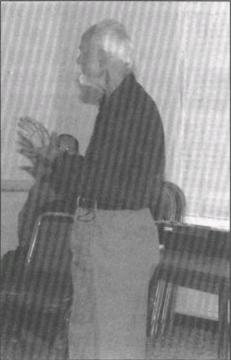 自八月十六日至八月二十一日,一群傑出的科學家、哲學家和宗教思想家在萬佛聖城與佛教僧侶共同參加一項名為「科學與觀照智慧」的研討會,由加州柏克萊大學物理學家喬治魏斯曼負責籌畫召集,他也是法界佛教大學教職員之一。
這次研討會將科學界和宗教界的領袖人物聚集一起,諸如加州柏克萊大學宗教研究教授赫斯頓史密斯,量子物理學家亨利斯戴普,曾與人合著《時空與知識》一書的哲學家史帝文坦納,物理學家與腦波研究員吉姆姜司敦,以及南卡羅來納州杜克大學佛學研究教授羅傑寇勒斯等,均從各自的研究領域中貢獻出廣泛的經驗。
天主教神父約翰羅吉士,漢堡大學哲學教授瑪麗包可為,精神治療師薇麗瑞霍普,人類學家兼藝術家露西李維斯,和英國化學家又是靜坐者約翰維京森等多人也齊來相互交換觀點。
代表萬佛聖城的是比丘恆實、恆效與恆勝,舊金山州立大學佛學教授易象乾,與法界大學代理校長阿匹納博士。
這項研討會的子題是「發展其他知的方式」,首先組成一個「學習界」來探討發展團體的心智。所調「學習界」是指一種分享的過程,時時刻刻決定它本身的發展。傳統正式的學術會議是由與會者念報告,而此「學習界」的方式則是鼓勵與會者流露內心所現重要的概念,再經討論歸納出明確的道理。與會者在「學習界」的範圍內溝通思想,就科學家與性靈專家們的立場探討意識問題。研討會擴大成圓桌討論並分享新的思考模式及其練習方法。萬佛聖城的男、女法師也從對佛經的研究與修持中提供他們的見解,照亮了當前物理學家對於科學在量子物理方面發展所作的描述。
最富啟發性的是活潑地交換意見,由觀想和直覺的角度,來討論科學報告所提出有關佛教、瑜珈、回教禁欲派,和美國原住民冥思訓練,在現實結構上的異同。
這次研討會的主題,包括如何突破我們在了解和求知上所受的限制,以及如何發展出更妥善的求知方法。
薇麗瑞霍普與露西李維斯並使多項討論增色不少。她們帶領與會者練習全面性而多樣化的知覺,包括動作、聲音及藝術表現種種層面。此項附加活動使大家體驗了真正的、精神上的女性之聲。
六天的研討會中,與會者尚有機會參加打坐、品嚐素食,並在道場裡參加每日課誦,此項被公認在全程活動中是很重要的經驗。與會者一致決定明年再來繼續更深入地討論。
From August 16 to August 21 a distinguished group of scientists and philosophers, and religious thinkers met with Buddhist monastics at the City of Ten Thousand Buddhas, in a symposium titled "Science and Contemplative Wisdom." Organized by Dr. George Weissmann, a physicist from the University of California at Berkeley, and faculty members of Dharma Realm Buddhist University, the symposium brought together such leaders of the scientific and religious communities as Huston Smith, professor of Religious Studies at Berkeley, and Henry Stapp, quantum physicist from Lawrence Berkeley Laboratories, Stephen Tainer, philosopher and coauthor of Time, Space, and Knowledge, Jim Johnston, physicist and brain-wave researcher, and Roger Corless, Professor of Buddhist Studies at Duke University, Durham, South Carolina. The participants contributed broad experience in their respective fields.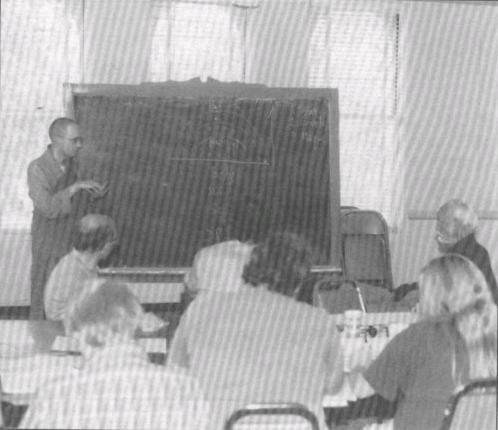 Father John Rogers, Catholic priest and chaplain of the Newman Community at Humboldt State University in Arcata, Mary Bockover, Philosophy Professor at Humboldt, Valerie Hope, therapist and spiritual practitioner, Lucy Lewis, anthropologist and artist; and John Wilkinson, British chemist and meditator, among others, exchanged their points of view.
Representing the City of Ten Thousand Buddhas were Bhikshus Heng Sure, Heng Syau, and Heng Sheng, Dr. Ron Epstein, professor of Buddhism at San Francisco State Univ., and Dr. Snjezana Akpinar, professor of Islam and Turkish, Chancellor pro tem of the Dharma Realm Buddhist University, among others.
Subtitled "Developing Other Ways of Knowing," the symposium focused first on a establishing a "learning community" that explored the discovery of a group mind. The "learning community" is a shared process that determines its own evolution from moment to moment. Instead of individuals reading papers in the formal style of traditional academic conferences, participants are encouraged to share communication from the heart, embodying the principles he/she considers valid and important.
Participants used a process of free exchange of ideas within the space of the learning community, to investigate the matter of consciousness on the parts of scientists and spiritual adepts. The talk expanded into roundtable discussion and sharing of new paradigms of thought and methods of practice. The monks and nuns offered insights from their practice and study of the Buddhist scriptures, to shed light on the physicists' description of science's current state of enlightenment on quantum reality.
Most stimulating were the lively exchanges on the similarities and differences in structures of reality as explored by scientific research, and the contemplative, intuitive approach of Buddhist, yogic, Sufi, and Native American meditative disciplines.
Topics discussed included how to overcome limitations to the way we approach understanding and knowledge and how to develop more appropriate methodologies of knowing.
As a complement to discussions, Valerie Hope and Lucy Lewis led the group in exercises exploring nonlinear, holistic knowing, involving movement, sound, and artistic expression, which generated insights about an authentic voice for women in a spiritual community.
An important aspect of the experience came from the opportunity for the participants to take part in meditation, taste the vegetarian cuisine, and join the daily liturgies and practices at the monastic campus.
The symposium lasted for six days and the group agreed to continue the exploration with further meetings next year.