Beginning in 1972, the entire Avatamsaka Sutra will be lectured for the first time in the West. In preparation for this Dharma meeting, the Sino–American Buddhist Association is collecting copies of the Avatamsaka Sutra, and gladly welcomes donations of this work, or will accept them at a price designated by the owner.
---
Contributors Who Have Aided in the Publication of Vajra Bodhi Sea:
Upasika Kuo Tsai
$25
Upasika T'an Kuo Shih
$25
Upasaka Kuo Fa
$25
Upasika T'an Kuo Ch'eng
$25
Upasaka Kuo Hu
$25
Upasika Kuo Ching
$25
Upasaka Kuo Jen
$25
Upasaka Kuo Yi
$100
Upasaka Kuo Ch'ien
$60
Upasaka Pai Kuo Chang
$25
Upasaka Kuo Tsun & Upasika Kuo Hsun
$100
Students of Prof. Lancaster
$40
Upasaka Wu Kuo Tsun
$25
Upasika She Kuo Man
$25
Upasaka Yu Kuo Hsing
$25
We welcome Donors who wish to contribute $100 or more, and Patrons who wish to contribute $500 or more in support of sutra translation and the spreading of the Good Dharma in America.
Donors and Patrons will receive one–life membership in the Sino–American Buddhist Association, and a one–lifetime subscription to Vajra Bodhi Sea.
In each issue will appear the names of contributors who have supported Vajra Bodhi Sea during the month proceeding publication.
---
The Next Issue of Varjra Bodhi Sea Will Feature:
The story of the Third and Fourth Patriarchs, Great Masters Seng Ts'an and Tao Hsin.
The first in a series of commentaries on The Lotus Sutra by Tripitaka Master Tu Lun, translated by Bhiksu Heng Ch'ien.
Highlights of a recent Dharma meeting at Redwood City sponsored by the Oriental Language and Literature Department at the University of California at Berkeley.
--- It's not important if old heads don't like this magazine, ---
they're going to die soon anyway.
---
CALENDAR OF BUDDHIST HOLIDAYS
| | | |
| --- | --- | --- |
| ● May | 8th | Birthday of Manjusri Bodhisattva |
| | 10th | Celebration of Buddha's Birthday in San Francisco |
| | 12th | Birthday of Shakyamuni Buddha |
| ● June | 1st | Birthday of Medicine King Bodhisattva |
| | 16th | Birthday of Ch'ieh Lan Bodhisattva |
| ● July | 5th | Birthday of Dharma Protector Wei T'ou |
| | 21st | Anniversary of Bodhisattva Kuan Yin's Enlightenment |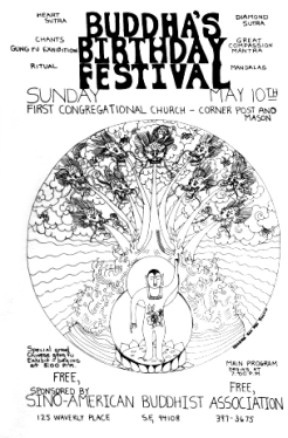 --- When gods see this magazine, they bow to it every day. ---
---
LETTERS TO THE EDITOR
Dear Sir,
I was very pleased to see your new Buddhist magazine. In every word one sees the truth; in every sentence is true reality. Buddhism will expand universally from this.
Particularly impressive was the "Demon–Cutting Sword", a powerful weapon for subduing demons. I was extremely happy with this article and am sure that it will cause the heads of many demons to roll to earth, making red rivers of demon blood.
All true Buddhist disciples will applaud and praise this magazine.
Yours in Dharma,
Pearl Wang
Disciple of the Triple Jewel (Hong Kong)
--- When animals smell this magazine, they forget about eating. ---
---
Readers with questions about the Buddhadharma may address them to the editors and receive answers in the following issue.