Elders, Great Virtuous Ones, Dharma Masters, Laymen:
After we five had taken the Shramanera, Shramaneriki, and Bodhisattva precepts here in America, and spent some time cultivating, we met with an opportunity to go to Hai Hui Monastery on Taiwan to take the complete precepts, and to seek out Good Knowing Advisors. We traveled in both Taiwan and Hong Kong, but Good Knowing Advisors were hard to find; many said that they were just common people in this the Dharma-ending Age, thereby excusing their lack of cultivation. We are fortunate to have met Good Knowing Advisors.
To excuse oneself from cultivating because one assumes oneself to be common, and the age inappropriate, is a grave mistake, and everyone should be clear about it. "Dharma–Ending Age" does not mean that the Dharma ends, for Dharma is constant and eternal. It is only on the part of people that there can be a "Dharma-Ending Age". To excuse oneself on the grounds that one is a common person is to forget that Shakyamuni Buddha was once a common person. Basically people are neither common nor sagely, for it is what they do that makes them what they are. If there is true cultivation, this "Dharma–ending Age" becomes an Orthodox Dharma Age, as common people cultivate and become sages. The differences lie in the mind of man, not with the Dharma. One confused thought and one is a sentient being; thought after thought confused, and thought after thought, one is a sentient being. One enlightened thought, one is a Buddha; thought after thought enlightened, thought after thought one is a Buddha.
In America the Buddhadharma is just beginning, and we three Bhiksus and two Bhiksunis wish to cultivate the proper Dharma. Western people have been severely influenced by many off–the–path doctrines, and as a consequence there has been no real study or knowledge of the Buddhadharma up to this time. Our understanding of this is shallow, and we would like Good Knowing Advisors and Mountain Elders to have compassion for us and to help us. The Buddhadharma does not discriminate between Chinese and American; all people are equal. Now there is a beginning, and the Buddhadharma in the West will become immeasurable and unbounded, causing all people to awaken and understand, obtaining the fulfillment of Buddhahood.
Our stay in Taiwan and Hong Kong was the meeting of Eastern and Western Buddhism. We were warmly received and wish to extend our thanks to all those who aided us in our travels.
On Dec. 14th we returned to San Francisco. A few days after our return we held a Seven-Day Recollection of the Buddha Session, immediately followed by a Seven-Day Meditation Session. Now we have organized a Buddhist Text Translation Society and spend eight hours every day translating texts. In addition to our regular cultivation the schedule is rounded out by nine Dharma Meetings each week, during which the Sutras are expounded. These meetings are held every night from 7:00 until 9:00, and on Saturday and Sunday from 12:30 until 2:30 p.m. We welcome all who wish to help us with this work in any way they are able.
Respectfully,
Heng Chien, Heng Ching, Heng Shou,
Heng Yin, Heng Ch'ih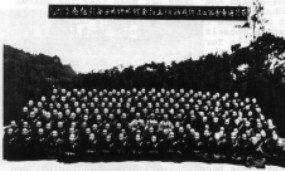 In November 1969, one hundred seventy men and women received the complete Bhiksu and Bhiksuni precepts at Hai Hui Monastery near Keelung, Taiwan, Republic of China.