PONDERING SELF
by Kuo Yin Henry

In this world
the self is king,
We people give it
everything:
Money, food, sleep,
sex and fame.
We spoil it so it
wins the game.
Now most folks
never realize,
The self keeps
us living lives.
It takes desire
as its best friend--
A sure way to the hells in the end.
But yes! There is
another way.
Recognize the self
and say,
"Wait a minute
self you see,
I'm hip to you,"
and let it be.
Don't fight or
it will win.
Just pay it no mind
and look within.
KUAN YIN
by Kuo Chuan Slater
She had grown accustomed to the sounds of the world. After all, that was her job. At first, a barely perceptible wrinkle in her forehead moved a little like that machine which measures heartbeats, serving as a n index of the intensity with which she heard.
Little by little, her hearing sharpened until it grew more acute than the most delicate instruments. Sounds became amplified to the point where the brush of one jay's feathers on the planes of China echoed louder than a gunshot in her ear.
Next she began to distinguish various noises: the mew of a particular cat, a certain hand upon a certain doorknob, the vibrations of a wheel in one old clock. Gradually, the languages of the world became like words in one tongue, and soon she had no trouble picking out a single voice. She could tell what bell was ringing in what tower. Each insect had a different buzz. The rain fell with a varied rhythm on the pear and lemon leaves.
At first, of course, she suffered. She was always tired. Her head ached from the strain of catching the rattle of the hundredth screen door in the wind. The pain to which she was a witness could not help but bring her grief. Sometimes she wept for hours after hearing grown men cry.
By and by, she even came to know the silence. There was no kind she could not identify: human silence, water silence, silences before a storm. She became familiar with the pauses between brothers, and that hush became another form of noise.
After a long while, she started hearing even the sound of her own brain, and now at last, there was no difference between listening and not listening. The line on her forehead ceased to move and her eyes alone changed color like the sea.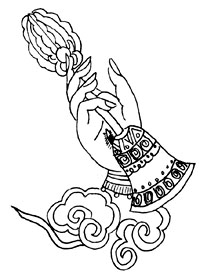 BUDDHIST TEXTS
COMING IN 1978
Dharma flower Sutra, Volume III, Chapter 2, Expedients.
Avatamsaka Sutra: Preface by T'ang Dynasty National Master Ch'ing Liang.
The Ten Grounds , Chapter twenty-six.
The Ten Dwellings, Chapter fifteen.
Listen to Yourself: Think Everything Over, Kuan Yin and Ch'an Dharma Talks.
Shurangama Sutra, Volume II.

SINO-AMERICAN BUDDHIST ASSOCIATION
GOLD MOUNTAIN MONASTERY
1731 FIFTEENTH STREET
SAN FRANCISCO, CA. 94103
RETURN POSTAGE GUARANTEED