Sudarananda Finds the Way
THE FIRST BUDDHIST MUSICAL
Presented at the City of Ten Thousand Buddhas
in honor of the Master's birthday.
Compiled and directed by Kuo Ts'an Epstein
Music by Dharma Master Heng Yin
Song: Everyone
Nanda loved Sundari
He couldn't put her down.
So the Buddha took him to the heavens
And he took him underground.
All things are relative
So the Buddhas say.
So he left the fire of desire
To cultivate the Way.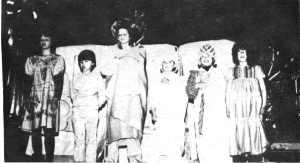 Instilling Virtue Players from left to right: Kuo Che Bradley as the narrator; Kuo Chau Silver as Sundarananda; Kuo Ju Bradley as the Buddha; Kuo Ch'ing Linebarger as a heavenly maiden; Kuo Mi Love joy as a heavenly maiden; and Kuo T'ou Gray as Sundari. Narrator: Long ago in India when the Buddha was in the world he had a little brother whose name was Sundarananda. He had a wife that he was so fond of that he had actually been named after her. Her name was Sundari and his name, Sundarananda means Sundari's Nanada. Why did he love her so much? Because she was absolutely stunning. In fact, she was the most beautiful woman in all of India. Because of this, Sundarananda was as if hypnotized by her beauty and he never left her side whether walking, standing, sitting, lying down, or even eating.
Song: Sundari & Sundarananda
Together we walk, together we sleep
Together we talk, together we eat,
Whatever you do, you do it with me,
whatever I do, I do it with you
Right?
Narrator: The Buddha saw that his little brother had deep good roots and that if he left the home-life he would surely be a good cultivator, but he also knew that Sundarananda would never be able to leave his wife. So he devised a plan. He took his bowl and went to Sundarananda's house to beg for food. Sundari and Sundarananda were having lunch but when Sundarananda saw his brother, the Buddha, of course he wanted to go outside and make offerings to him.
Sundarananda: Sundari, please, I would like to step outside and give my brother, the Buddha, an offering of food.
Sundari: (spitting on the floor) All right, but on one condition. You come back before that spit dries on the floor. If you aren't back by then, then don't bother coming back at all. Understand?
Sundarananda: Sure, that's no problem. It won't take me that long.
Narrator: So Sundarananda went out to make offerings to his brother, the Buddha. But the strangest thing happened. Everytime he took a step forward to put the food in the Buddha's bowl, the Buddha took a step backward. With the help of the Buddha's spiritual penetrations, in a few minutes Sundarananda found himself back at the Jeta Grove.
Sundarananda: Oh, no, what will I do now. I'll never get back before that spit dries on the floor and Sundari will think I did it on purpose. She'll never forgive me.
Buddha: Don't go back, then. Stay here with me and leave the home-life. You should cultivate the Way.
Narrator: So Sundarananda allowed the Buddha to shave his head and garb him in the robes of a left-home person, but in his mind he was still very much in love with his wife, Sundari, and all he could think of was finding a chance to escape and go back home to her. One day the Buddha and all of his disciples went out for lunch and left Sundarananda to guard the door.
Buddha: We will be back soon, and bring you lunch. Sweep the floor and clean up the place a bit while we are gone. Goodbye.
Sundarananda: Now's my chance to go home to Sundari. But first I will do the chores the Buddha asked me to do.
Song: Sundarananda while sweeping
Watch the door, sweep the floor,
Is that all I'm good for
Anymore?
Answer the phone, stay at home
All alone...