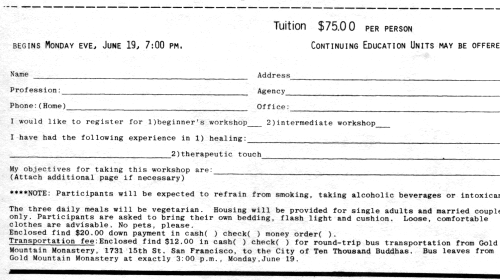 Send application to: Therapeutic Touch
PO Box 217
Talmage, CA 95418
-------------------------------------------------------------------------------------
Tuition $75.00 per person
continuing education units MAY BE OFFERED
BEGINS Monday EVE, June 19, 7;00 PM.

Name
Address

Profession:
Agency
Office:
Phone:(Home)

Office:
I would like to register for l) beginner's workshop
2)intermediate workshop
I have had the following experience in 1) healing:

2)therapeutic touch
My objectives for taking this workshop are:
(Attach additional page if necessary)
****NOTE: Participants will be expected to refrain from smoking, taking alcoholic beverages or intoxicants
The three daily meals will be vegetarian. Housing will be provided for single adults and married couples only. Participants are asked to bring their own bedding, flash light and cushion. Loose, comfortable clothes are advisable. No pets, please.
Enclosed find $20.00 down payment in cash( ) check( ) money order( ).
Transportation fee: Enclosed find $12.00 in cash( ) check( ) for round-trip bus transportation from Gold Mountain Monastery, 1731 15th St. San Francisco, to the City of Ten Thousand Buddhas. Bus leaves from Gold Mountain Monastery at exactly 3:00 p.m., Monday, June 19.