DHARMA REALM BUDDHIST UNIVERSITY
WELCOMES ADULT EDUCATION APPLICANTS
Some students at the University's main location, the City of Ten Thousand Buddhas in Mendocino County, California, have returned to school after a full life's experience to pursue continuing education. Recently, on a brisk, sunny day in February, seventy senior citizens traveled south from Eureka to visit the City and University. Treated to a sumptuous vegetarian feast, the guests commented on their enjoyment of the pure food. Bhiksus from Tathagata Monastery gave talks after the meal and discussed the Buddhadharma, the life-style of a Buddhist monk, the aims of Dharma Realm Buddhist University, and the like. The guests were given a guided tour around the grounds of the City and the campus of Dharma Realm University.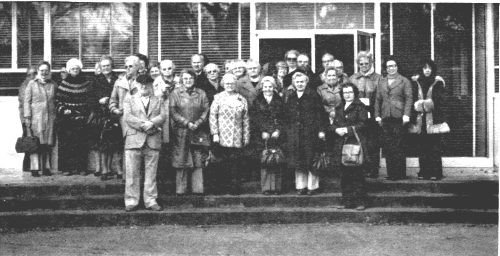 Shown above senior citizens visit the City's acupuncture clinic
at the main hospital.