THE FIRST AMITABHA BUDDHA SESSION
AT THE CITY OF TEN THOUSAND BUDDHAS
At the beginning of the session the rules were established. For those who kept the rules, quieted their minds and bodies, and single-mindedly recited the Buddha's name, it was an especially intense and fulfilling week.
As Master Hua/pointed out in his commentary to the Sixth Patriarch's Sutra,
...The three evil destinies and the three obstructions exist no longer and their absence is just the Western Paradise. For this reason we do not need to move the Western Paradise to the Saha world and we do not need to consult a travel agent for passports and visas. The Western Paradise is right here. "But if you do not cultivate, how can you go there?" It's so far away. It takes several days just to go to the moon. The Western Paradise is ten billion Buddha-lands away, millions of times farther than the moon. Then how does one go there? Purify the mind.
And one way to tend toward the purity of mind is to exist in an environment, which minimizes false thinking. So for seven days, the participants of the Amitabha Session who existed within the framework of the following rules, had an optimal chance to purify their minds and see their natures, and for them, the Western Paradise was not far away.
Master Hua instructed:
"This is the first Buddha Recitation Session to be held at the City of Ten Thousand Buddhas. It is essential that we be particularly intense. No one can be lazy or lax. Everyone must be courageously vigorous. Everyone should be sincere in his recitation of the Buddha's name. You can't look around all the time or go out of the Buddha-hall during this session. No one should talk, but should single-mindedly be mindful of the Buddha. Let's see who can be the first to obtain the Buddha-recitation Samadhi or to see light, flowers, and other magnificent states. But if you don't use a protractor and compass you canít make circles and squares. Itís essential that everyone honor the rules.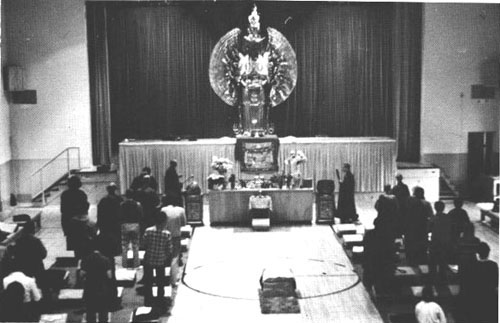 Participants recite the Buddha Speaks of Amitabha Sutra during evening ceremonies at the City of Ten Thousand Buddhas during the Amitabha Buddha Recitation Session.