NEW YEAR'S DAY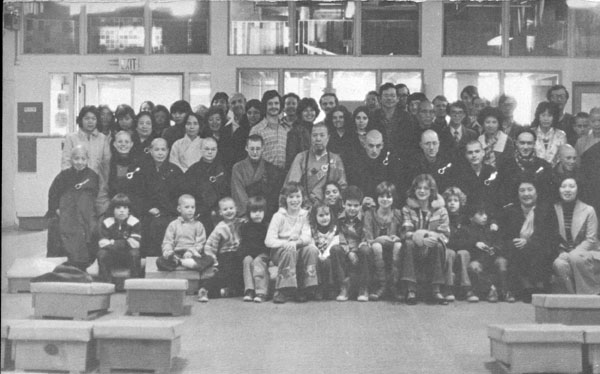 The Venerable Abbot of Gold Mountain Monastery, Dhyana Master Hua, addressed the Great Assembly at a vegetarian feast on February 18, 1977, in the following words, translated by Bhiksuni Heng Hsien, and illustrated by the picture on the proceeding page which shows the Master with disciples.
"Today is New Year's Day by the lunar calendar, but it is the old year by the solar calendar, making this both the new year and the old year. At this present beginning of the New Year, each person should establish new goals, make New Year's resolutions, and adopt new courses of action. Those new courses of action entail changing our own minds. If you do not change your own mind, then it is still the old year. If you do change your mind, then it really is the New Year. Basically there is no New Year and no old year. If you can change, your resolution makes it the New Year. If you do not change, then although the new year has come, you are still the same old you and there is nothing new.

Those of us who study Buddhism should at all tines know how to change our own minds and correct our mistakes. At the beginning of this New Year, we absolutely must correct all we used to do that was not in accord with Dharma. For example, if you like to drink wine, from today on stop drinking wine. If you like to smoke, from today on don't smoke anymore. If you like to gamble, starting today cease to gamble. Those are all new courses of action. Therefore I hope that all of you will dump all your past year's faults and bad habits into the Pacific Ocean. Don't refuse to give them up, for that would not suit the spirit of the New Year!"
1977 INTENSIVE SUMMER RETREATS AT DHARMA REALM BUDDHIST UNIVERSITY, CITY OF TEN THOUSAND BUDDHAS, MENDOCINO COUNTY, CALIFORNIA
The Sino-American Buddhist Association's annual summer study and cultivation sessions this year will take form as two retreats, to be held at the City of Ten Thousand Buddhas, Box 217, Talmage, California 95705, site of the newly opened Dharma Realm University. College credit will be offered for this year's retreats. The first retreat is of four weeks' duration, beginning with check-in on June 26 and ending on July 24, and it ends on August 28. Second retreat will culminate with a seven day intensive Ch'an meditation session. Courses will cover fundamental Buddhist principles and practice, languages and art. For application and details, write retreats at the address given above. The Avatamsaka Sutra will be lectured.