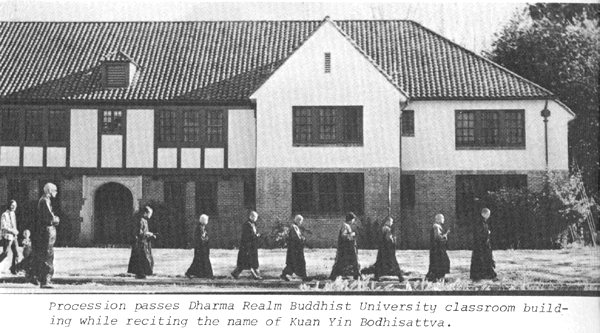 Procession passes Dharma Realm Buddhist University classroom building while reciting the name of Kuan Yin Bodhisattva.
The sun beat down relentlessly on the shaven and unshaven heads of those intent upon their invocation; the sky remained fiercely and stubbornly barren, blank-blue, until the very end of the week, when softly, long serpent-like clouds crept slowly in from the sea, as though they had come to listen to the music of Kuan Yin's name and the timeless rhythm of the wooden fish and bell calmly floating through the heavens and pervading empty space. Finally, the next week, the news reached the sleeping rain dragons in their far-off retreat and they answered the summons with a watery response.
This first session at the City of Ten Thousand Buddhas inaugurated the practice of the ancient Dharma-door of recitation, a peerless way to achieve a total concentration of the mind and bring its ceaseless thoughts to a halt. During the week instructional talks were given by participants who told stories of the miraculous responses evoked by the sincere recitation of Kuan Yin's name and related their own personal experiences.
This summer the practice of sitting meditation will be introduced at the City in two intensive Ch'an sessions during the summer study and practice sessions. Ch'an, silent sitting and investigation, is another ancient Dharma-door.
CURRENT: AVATAMSAKA ASSEMBLY
The Venerable Master Hua, Founder and President of the Sino-American Buddhist Association, delivers daily lectures on the Avatamsaka Sutra at 7:00 PM and an additional lecture at 12:30 PM on Saturdays and Sundays, at cold Mountain Monastery, 1731 15th Street, San Francisco, California.