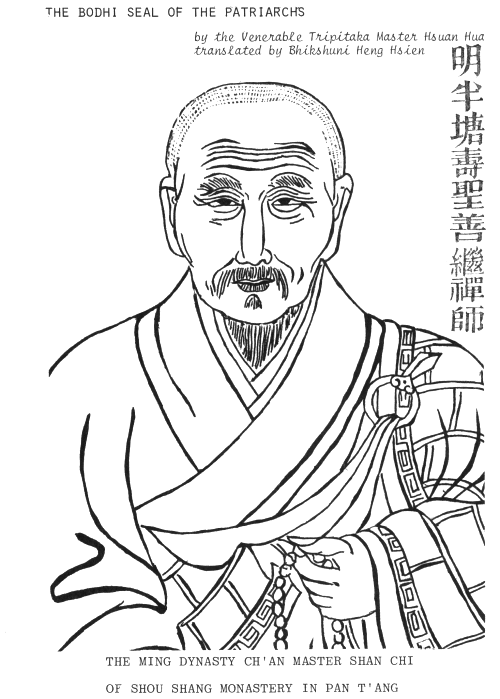 Ch'an Master Shan Chi lived at Shou Sheng Monastery, located in Pan T'ang Dynasty. CH'AN MASTER SHAN CHI WAS CALLED CHUEH TSENG (CUTTING SHORT). This Ch'an Master's name was Chueh Tsung, "Cutting Short," which amounts to "Nothing Whatsoever." HIS OTHER NAME WAS HUAN MIEH (ILLUSORY DISAPPEARANCE). His other name was Huan Mieh, which also means, "Nothing." HIS WORLDLY NAME WAS LOU. When he was at home, his name was Lou, AND HE WAS A LONG-TERM RESIDENT OF KUANG TONG. He lived for a long time in Kuang Tong. AS SOON AS HE WAS BORN, HE COULD TALK. He was able to talk from the time he was born. WHENEVER HE SAW HIS MOTHER OFFERING UP THE BUDDHA'S NAME, HE WOULD PUT HIS PALMS TOGETHER AND JOIN HER. When he saw his mother reciting the Buddha's name, he would put his palms together and recite the Buddha's name along with her. IN THE TA TE (GREAT VIRTUE) PERIOD OF THE YUAN, HE SHAVED HIS HEAD AND DONNED DYED ROBES. In the Ta Te reign period of the Yuan Dynasty, he shaved his head and donned the dyed robes of a left-home person. FROM THE INDIAN DHARMA MASTER TA SHAN HUI (GREAT MOUNTANEOUS EXTENT) HE STUDIED THE T'IEN T'AI TEACHINGS. He bowed to the Indian Dharma Master Ta Shan Hui as his Teacher, and studied the T'ien T'ai teachings and contemplations. AFTERWARDS HE WENT TO NAN-CHU, TO VISIT THE VENERABLE CH'ENG (CLEAR) OF SHEN T'ANG (DEEP HALL), WHO CLEARLY RECOGNIZED HIS CAPACITY AS DEEP. Afterwards he went to Nan-chu and drew near to the Venerable Ch'eng of Shan T'ang, who clearly recognized his deep capacity.
IN HIS LATER YEARS HE EXCLUSIVELY CULTIVATED PURE KARMA. When he got old, he specialized in cultivation of the Dharma door of reciting the Buddha's name. "Pure karma" refers to the Pure Land practices. HE RECOLLECTED AMITA DAY AND NIGHT WITHOUT CEASE. Day and night he concentrated his mind on reciting the Buddha's name. ONE DAY HE SUDDENLY ADDRESSED THE GREAT ASSEMBLY, SAYING, "I AM GOING TO RETURN." One day he said to the Great Assembly, "I am going to go back." WITHOUT ILLNESS, SITTING UPRIGHT, HE TRANSFORMED. Without any sickness, he sat up very erect and proper, and went off to rebirth. UPON CREMATION, HIS TONGUE WAS NOT DESTROYED. When they burned his body, his tongue was not consumed.
THE MASTER WAS A LATER INCARNATION OF THE SCHOOL'S PATRIARCH SHOU OF YUNG MING. Who was Ch'an Master Shan Chi? He was a later incarnation of the Pure Land School's Sixth Patriarch Shou of Yung Ming, who had been a transformation body of Amitabha Buddha. The Ming Han Lin scholar Tsung Lien was a later incarnation of the Master. Ch'an Master Shan Chi turned into the Ming Dynasty Han Lin scholar Tsung Lien. THE MASTER, AFTER SAMPLING GOVERNMENT, WROTE OUT THE ENTIRE GREAT DIRECTIONALLY EXPANSIVE BUDDHA FLOWER ADORMENT SUTRA IN HIS BLOOD. He wrote out the entire Avatamsaka Sutra in his own blood. IT IS STILL PRESERVED ENTACT IN SU CHOU'S SHOU SHENG MONASTERY IN PAN T'ANG. The copy of the Avatamsaka Sutra that he wrote out is still preserved at Shou Sheng Monastery. AT FIRST, THE SCHOLAR'S MOTHER DREAMED OF AN UNUSUAL MONK WHO WAS WRITING OUT THAT SUTRA BY HAND. Tsung Lien's mother in a dream saw a very unusual member of the Sangha writing out the Great Directionally Expansive Buddha Flower Adornment Sutra, WHO CAME UP TO HIS MOTHER AND SAID, "I AM YEN SHOU OF YUNG MING. I WOULD LIKE TO RENT A ROOM TO COMPLETE THIS SCROLL." He said to Tsung Ling's mother-to-be, "I am the Sung Dynasty Ch'an Master Yen Shou of Yung Ming. I would like to rent a room from you now in order to finish writing." WHEN HIS MOTHER AWAKENED FROM THE DREAM, THE SCHOLAR WAS BORN. After she awakened from the dream, Tsung Lien was born into the world. WHEN THE SCHOLAR WAS OLDER, HE HAPPENED TO SEE THE SUTRA, AND SUDDENLY REMEMBERED THE PREVIOUS EVENTS. When he grew up, he looked at the Avatamsaka Sutra and realized, "Oh! Originally in my previous life I wrote that out," recollecting the events of the past. HE THEN LIT INCENSE AND HELD UP FLOWERS AS PREFERRED OFFERINGS. Thereupon he lit incense and made offerings of flowers. THE CLOUD OF INCENSE SPIRALLED INTO A JEWEL-LIKE NET, COMPLETELY COVERING THE SUTRA FROM ABOVE. The smoke from the incense, up in the air, formed a spiral-shaped network of jewels which was concentrated above the Sutra. THE SCHOLAR, AT THE RESPONSE OF THIS PORTENT, WROTE A VERSE IN PRAISE. Tsung Lien, upon meeting with the response of this portent, wrote a poem of praise, at the end of the Avatamsaka Sutra, which says:
AMITA FROM GREAT COMPASSION
APPEARED AS FENG KAN.
AFTER TRANSFORMING AS YUNG MING,
HE BECAME THE MASTER SHAN,
AND THEN THE VENERABLE TSUNG,
ALL OF WHOM IN THIS LAND
GREATLY DID THE BUDDHA'S WORK.
SU TENG P'O, VENERABLE TS'ENG WU,
CH'EN CHUNG SHU, AND WANG SHIH P'ENG
ALL THROUGH CH'AN'S VIRTUE TURNED INTO WORLDLINGS.
SO TOO DOES AMITA PLAY AMONG MANKIND.
WHO COULD SAY THAT THEY WERE ONES WHO'D FALLEN?
He said, "Amita Buddha, out of great compassion, manifested a body and came as the Venerable Master Feng Kan. Afterwards, he appeared in a transformation body as Ch'an Master Shou of Yung Ming, and then he was Ch'an Master Shan Chi. This Tsung Lien, in the Saha World, works for Buddhism on a large scale. Su Teng P'O, the Venerable Tseng Wu, Ch'en Chung Shu, Wang Shih P'eng, were all left-home people who turned into worldly personages, and all of them were just like Amita Buddha, playing in the midst of people. Who could say that they had fallen?
Another verse in praise says,
AMITA TURNED INCARNATE
AS FENG KAN AND YUNG MING.
THE VENERABLE TSUNG COMPOSED A PRAISE,
THE ELDER SHAN WROTE OUT THE SUTRA.
WHO CLAIMS THAT SU'S DISCIPLES
HAD FALLEN IN THE PIT?
THE CH'AN RIVER IS CRESCENTI C:
I HAVE NOT COME IN VAIN.
The eulogy says that Amita Buddha came by transformation body into the Saha World, and that Feng Kan and Yung Ming were all transformation bodies of Amita Buddha. Tsung Lien wrote a number of verses of praise, while the Elder Ch'an Master Shan Chi wrote out the Avatamsaka-Sutra. Who could say that Su Teng P'o and the rest had fallen? The source of the River of Ch'an is very deep. This time I did not come in vain.
Yet another verse in praise says,
AT BIRTH HE COULD TALK,
EXCELLING AND UNCOMMON.
AMITA APPEARED,
TRANSFORMING SPROUTS BY BUNCHES
THE BLOOD-WRITTEN AVATAMSAKA
LIGHTS A THOUSAND GENERATIONS
HIS TONGUE, UNDESTROYED,
INSTRUCTS TEN THOUSAND SPRINGS.
ONLY CULTIVATING PURE KARMA
HE SOUGHT HAPPINESS
JUST RECOLLECTING LOTUS GRADES
HE ATTAINED THE BUDDHA FRUIT.
RIDING VOWS MAY HE
RETURN TO THE SAHA WORLD,
AND EVERY KIND AND CLASS
ASCEND TO UTMOST BLISS.
Another poem says that he was not the same as most people: as soon as he was born, he was able to talk. Amita Buddha manifested to teach and transform living beings. He used his blood to write out the Avatamsaka Sutra and a thousand generations afterwards all obtained light. His tongue was not destroyed, but continues to transform people. He exclusively cultivated "Pure karma, that is, the Pure Land Dharma doors. His hope was to be reborn in the Land of Ultimate Bliss, Sukhavati. He never forgot the nine grades of lotus in the Western Land of Ultimate Bliss, and he has already attained the fruit of Buddhahood. We hope that the Elder Master Shan Chi, mounted on his vows, will return to the Saha World, and that everyone, no matter who they are, will be reborn in the Land of Ultimate Bliss.