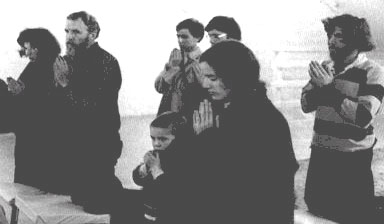 TAKING REFUGE AND PRECEPTS
During the 1976-77 winter sessions at Gold Mountain Monastery, a Refuge and Precept Ceremony was held. Shown above from left to right are Kuo K'ai Robertson, a student of philosophy at Skyline Community College, Kuo Chih Paton, an ordained Episcopal minister and Dharma Realm Buddhist University faculty member, who took refuge with the Venerable Master, and Kuo T'ou, Kuo Mo, Kuo Mo, Kuo Wo, and Kuo Lei, who took precepts.
During the ceremony, the Master instructed them: "Before the Buddha came into the world, deviant teachers expounded their teachings. The words they spoke were false because they did not tally with true principle. They blindly lead stupid people who desired to rise but who turned and fell instead.
Then the Buddha came into the world like the bright sun, which appears in a magnificent sky and destroys all darkness. He appears like the luminous moon in space. All existence is purified and refreshed. The Buddha is the orthodox guiding master who teaches us to turn from the deviant and return to the proper."