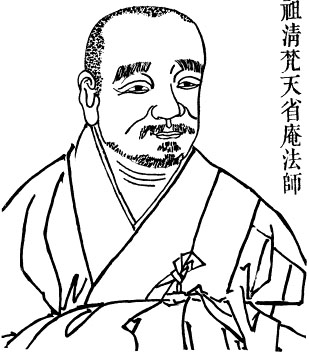 THE NINTH PATRIARCH OF THE LOTUS SOCIETY
CH'ING DYNASTY DHARMA MASTER HSING-AN
Dharma Master Hsing-an was Abbot of Fan T'ien Monastery in Hang-chou during the Ch'ing dynasty.
THE MASTER WAS CALLED SHIH HSIEN (REAL SAGE). This Dharma Master was named Shih-hsien, the name means that he was truly, actually a sage. His name suited him because he really was a sage. HIS OTHER NAME WAS SSE-CH'I (LIKE MIND). Confucius said, "Seeing a sage, be of like mind." And because the Master was a true sage, upon seeing a sage he was of like mind. The expression means that when you see a good person you should emulate him. HIS OTHER NAME WAS HSING-AN. HE WAS A SON OF THE SHIH FAMILY OF CH'ANG-SHU PROVINCE. HIS FATHER WAS A SCHOLAR. THE MASTER LEFT HOME WHEN YOUNG, HE STRICTLY PRACTICED THE VINAYA. He practiced the 53 mantras, The Daily Vinaya practices. AND SOON BEGAN TO LECTURE. He began to lecture on Sutras and to speak Dharma. HE UNDERSTOOD THE STUDY OF THE NATURE AND THE APPEARANCE. The Nature Sect discussed emptiness and the Appearance Sect discussed existence. The nature and the appearance are the two doors of emptiness and existence. HE INVESTIGATED THE TOPIC OF WHO IS MINDFUL OF THE BUDDHA. AFTER FOUR MONTHS HE SUDDENLY BECAME ENLIGHTENED. He investigated that topic for four months and became enlightened. So you see, when the ancients investigated "who is mindful of the Buddha" and applied their skill, they really worked at it. They single-mindedly developed their skill. They were not like people of today who work at recitation on one hand and on the other, strike up false thoughts. They were not such a combination of defilement and purity all mixed up together. When you sit in meditation it should feel like being beaten. Your legs should hurt just as if someone were taking a club to them. And yet you should still bear the pain. Don't put your legs down. If you can keep from putting your legs down and can sit through the pain for an hour or two or even three, then your skill will develop. And there are a lot of experiences, which can occur when your skill becomes well developed. Sometimes your entire body will feel cold or hot, or your whole body will move. It moves involuntarily; such movement indicates that the pulse of blood in your veins and arteries is penetrating. Sometimes you will find yourself blinking rapidly a dozen more times, again quite involuntarily. States such as these will occur. Perhaps certain parts of your body will suddenly move. Or perhaps while you are sitting, your tongue will slip down your throat. It will go back in itself and at that time the breath will no longer go in and out. So your tongue has slipped down your throat. What are you to do about that? How will you ever be able to eat again? You won't ever know taste again, will you? Do not be afraid. When your tongue goes down your throat and your breath is cut off, your inner breath takes over. And when you have progressed in meditation to a certain point, your tongue will come back up by itself and it will naturally return to position and will fold back up on the roof of your mouth. You will then have to swallow a lot of saliva, more than the usual amount. It will be a sweet dew that descends. There are many states such as these, too numerous to mention. Why don't you have any states? Because you sit a little and it starts to hurt and you start to think about it, "Such pain! I can't wait for the bell!" You shouldn't have to think of the bell, you should have patience. Don't fear the pain. You should be determined to break through that gate. And if you are like that, there will be a way to do it. Its not that with the first bit of pain you can't take it, you can't bear it. You have to definitely bear what cannot be borne. You have to endure what cannot be endured.
So after four months he suddenly became enlightened AND SAID, "I HAVE AWAKENED FROM MY DREAM." FROM THEN ON HIS CH'AN BANTER WAS SWIFT AND SHARP. HIS ELOQUENCE ALL-ENCOMPASSING. DURING THE DAY HE READ THE TRIPITAKA AND AT NIGHT HE HELD THE BUDDHA'S NAME. He recited the Buddha's name at night, saying, "Namo Amitabha Buddha, namo Amitabha Buddha." You people don't even recite a single sentence of the Buddha's name. Ultimately what kind of cultivation are you doing? How can you call it cultivation when you do nothing to develop your skill? HE BURNED A FINGER AT E-YAO WANG MOUNTAIN. BEFORE THE BUDDHA HE MADE FORTY-EIGHT GREAT VOWS AND CAUSED THE SHARIRA TO EMIT LIGHT. At Yao-Wang there were several of the Buddha's sarira and he caused the sarira to emit light. And wasn't it there that the Elder Master Hsu-yun also burned a finger as an offering to the sarira and to repay the kindness of his mother? So it was with Dharma Master Hsing-an who burned his finger as an offering to the Buddha's sarira and made forty-eight great vows. At that time many people saw the sarira emit light. HE WROTE AN ESSAY CALLED "EXHORTATION TO RESOLVE ONE'S MIND ON BODHI. "This is a very fine piece of literature. It clearly explains how people should resolve their minds on Bodhi. He talks about ten causes and conditions for resolving the mind on Bodhi: true, false, great, snail, proper, deviant partial, complete. TO ENCOURAGE THE FOUR ASSEMBLIES. He urged people onto cause them to resolve their minds on Bodhi. ALMOST ALL WHO RECITED IT WERE MOVED TO TEARS. The people who read "Exhortation to Resolve One's Mind on Bodhi" were moved to tears IN THE TWELFTH YEAR OF YUNG-CHENG--prior to that time by half a month he said to everyone, "I am going in a few days." Some people didn't know what he was talking about. But ON THE FOURTH DAY OF THE FOURTH MONTH HE FACED WEST AND BECAME STILL. People who cultivate the Way should sit facing West whenever possible. Do not turn your back on Amitabha Buddha when you sit. Amitabha Buddha is in the West and if we sit facing West we are sitting facing Amitabha Buddha. Most of the people in the past who cultivated the Pure Land Dharma Door did not sit with their backs to the West. They sat facing Amitabha Buddha and this represented their single-mindedness. THOSE WHO CAME TO SEE HIM OFF WERE GATHERED AROUND WHEN SUDDENLY HE OPENED HIS EYES. He opened his eyes and spoke. "I'M GOING BUT I'LL BE BACK SOON. THE MATTER OF BIRTH AND DEATH IS GREAT. EVERYONE SHOULD PURIFY HIS MIND. RECITE THE BUDDHA'S NAME AND EVERYTHING WILL BE ALL RIGHT." He said to single-mindedly recite and that everything would be OK. THEN HE PUT HIS PALMS TOGETHER AND RECITED THE BUDDHA'S NAME. He placed his palms together and recited, "Namo Amitabha Buddha, Namo Amitabha Buddha." AND WENT OFF TO REBIRTH.
A VERSE IN PRAISE OF THE MASTER SAYS:
HIS COMPASSIONATE MIND
WAS VAST AND GREAT.
AS WAS HIS ESSAY
ON BODHI.
HE MADE
FORTY-EIGHT VOWS AND
THE POWER OF HIS VOWS
WAS VAST AND DEEP.
HIS PRACTICE AND UNDERSTANDING
WERE TRUE AND ACTUAL.
HIS AUSPICIOUS HAPPENINGS
TRANSCENDED THE ORDINARY.
THE SINGULAR PULSE
OF THE LOTUS SOCIETY
RELIED ON HIM
TO ETERNALLY ABIDE.
He had a lot of auspicious things happen like the time when he had already gone off to rebirth and then he opened his eyes. He was very free, very casual. When he wanted to go away, he went. All he did was say "I'm going," and he went. He transcended the common lot.
At that time the transmission of the Lotus Sect relied on him for the transmission so that it could continue on to this day.
ANOTHER VERSE IN HIS PRAISE SAYS
THE SARIRA EMITTED LIGHT
WHEN HIS MIND WAS SINCERE,
HIS EVERY ACT AND UNDERSTANDING
BROUGHT A RESPONSE.
"THE EXHORTATION TO RESOLVE ON BODHI"
TEACHES THOSE TO COME,
BURNING HIS FINGER, AN ACT OF VIGOR
WAS AN OFFERING TO "THE FIRST TO KNOW."
HIS MINDFULNESS OF AMITA WAS SINGULAR:
TRANSCENDING THE TRIPLE REALM.
THROUGH DILIGENT CULTIVATION OF PURE KARMA
HE REACHED THE FIRST TIER.
HIS FLOURISHING MERIT AND AWESOME ACCOMPLISHMENTS
ARE DIFFICULT TO RECKON
MAY HE RETURN AS A COMPASSIONATE VESSEL
TO RESCUE SENTIENT BEINGS.
Why did the Sarira emit light? Because his mind was sincere and because he made forty-eight vows. Not a single thing he did was devoid of efficacious response. His essay "Exhortation to Resolve One's Mind on Bodhi" taught those of the future. He burned his finger, which was a kind of vigorous offering to the First to Know and Awaken, that is, the Buddha. What he did was single-mindedly recite the name of Amitabha Buddha, and in that way, he transcended the Triple Realm. He was diligent in his study of the Dharma-door of pure practice and arrived at the superior-superior grade of the Lotus Position. There is no way to calculate the vastness and depth of his meritorious practices.
He said he was going but that he would be back soon. We hope he will come here and save all living beings.
Just like Amitabha
A song by Upasika Kuo Hai
Once there was a Dharma Master
Who would grow to Amitabha.
For he had such compassion
For all the living beings—in the suffering Saha world.
And so he vowed to save them
Built a raft to cross us over.
Use his name to cross us over.
Use his life to cross us over—by the power of his vow.
Hear the mountains "Amitabha"
Hear the rivers "Amitabha"
Let your heart sing "Amitabha"
Nothing left, but Amitabha.
NAMO AMITABHA
NAMO AMITABHA