DHARMA REALM UNIVERSITY
The Western World's Only
Buddhist-Sponsored University
A SPECIAL APPROACH
Dharma Realm University is not a "far-out" experimental college, but it is striving for innovative education of a high quality. It will stress:
Focus on values: examining the moral foundations of ancient spiritual traditions, relating those traditions to space-age living, and finding what it takes to live in harmony with our social and natural environments.
Focus on change: a key to understanding ourselves, our relationships, and the crisis of the modern world. What we seek is to be open to new ways of seeing ourselves, to new modes of relating to friend and stranger, and to new methods and technological aids that supplement and open up for us the limitless store of human wisdom, past and present.
Total environment education: where teacher and student are partners in the educational process and share responsibility for it. Learning tkaes place both in and out of the classroom in a community which is involved in the complex problems of society.
Personally tailored programs: in which education need not be constricted by traditional department boundaries. The emphasis will be on meaningful learning, not just the accumulation of facts and test-taking skills.
Education for young and old where the different generations come together to share in the experience of learning and thereby enrich the experience. The University also especially encourages those with valuable life experience to apply for special experimental learning credits.
GUIDING IDEALS
These are the ideals which will guide education at Dharma Realm University:
To explain and share the Buddhas teaching;
To develop straightforward minds and hearts;
To benefit society;
To encourage all beings to seek enlightenment.
To explain and share the Buddhas teaching. In Dharma Realm University's Buddhist Studies Program, a full range of instruction in the principles of enlightenment, combined with methods of practice, will be offered. The history of Buddhism and its role in society will be part of the course of study. The curriculum will be tailored both for members of the Buddhist community and for non-Buddhists.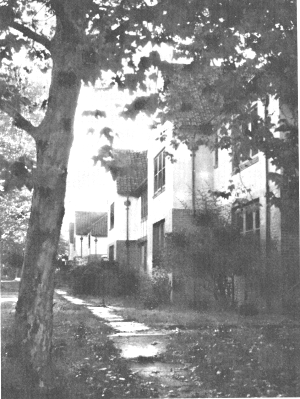 To develop straightforward minds and hearts. The life of the University community will be directed toward optimizing the opportunities of students, faculty, and staff alike to strive for complete personal fulfillment through ever increasing self-awareness and honest self-examination.
To benefit society. The ideal Buddhist life is one of constant selfless striving for the benefit of all beings. This ideal will serve as a beacon for all members of the University community in their relations with other members of the community, with their families, and in their present and future roles in society.
To encourage all beings to seek enlightenment. It is hoped that the educational experience at Dharma Realm University will lead students to bring wisdom and morality to bear in their daily lives and to help others realize self-understanding.
WHY NON-BUDDHISTS SHOULD CONSIDER DHARMA REALM UNIVERSITY
Although the University is founded on Buddhist ideals, those ideals are consistent with and encourage complete personal freedom of religious expression for all. The University does not discriminate in its admissions or hiring policies on the basis of religious background or personal creed.
Among the Buddha's major teachings are tolerance, open-mindedness, and equality; and the University has no vested interest in any preconceived notion of truth or any fixed dogma of how truth is to be explained. All that is asked of students is that they be sincerely interested in learning about themselves and the world. In Buddhism it is said, "There are no fixed Dharmas," which might be roughly interpreted as meaning, "If you commit yourself to anything definitely being a certain way, you will probably be mistaken."
CAMPUS
The main campus of Dharma Realm University is located at the foot of Cow Mountain National Recreation Area in the beautiful Ukiah valley. It is surrounded by the woods, meadows, and farmland of the City of Ten Thousand Buddhas.
The University will be housed in several large buildings set among trees and broad lawns. One classroom building has been newly refurbished for educational use. Residential and recreational faculties, including auditorium-gymnasium, and swimming pool, will be provided students by the City of Ten Thousand Buddhas.
The air is clean and fresh, and the climate is pleasant and temperate (av. min. temp. 43.2 deg; av. max. temp. 76 deg.) Rarely falling below freezing in the winter and usually dry in the summer, the area is very fertile with much grape and fruit tree cultivation. Close by are the Russian River, Lake Mendocino and Clear Lake, several hot springs, redwood and other national forest lands, and the scenic Pacific Coast.
PROGRAMS-Undergraduate and graduate, full-time and part-time
The University intends to provide quality education in a number of fields, with an emphasis (wherever possible) on matching classroom theory with practical experience. The curriculum is divided into three main program areas:
The Letters and Science Program: In addition to a regular curriculum of Humanities, Social, and Natural Sciences, special emphasis will be laid on East-West studies, with strong offerings in Asian languages, literature, philosophy, and religion. We expect pioneering interdisciplinary approaches in many of these areas, combining the best of Asian and Western approaches to education. Education for personal growth and development of special competencies will be the twin aims of the program.
The Buddhist Studies Program: will include degree programs tailored both for those who prefer a secular approach that does not require individual religious commitment, and for the Buddhist monastic community. Emphasis will be on a combination of traditional and modern scholarly methods in unique programs developed through the close cooperation of highly experienced and respected members of the Buddhist Sangha and Western Buddhist scholars. Offerings will range from introductory fundamentals to advanced meditation and spiritual training, and will include advanced seminars conducted in both English and Canonical languages.
The Arts Program: Practical Arts will concentrate on putting knowledge to work right away in workshops for building a living community: ecology, energy, gardening and nutrition, community planning, management, etc. Creative Arts offerings will include the meeting of East and West in a whole panorama of studio arts. There will be special courses in Chinese calligraphy, in the creation of Buddha images, and in music and dance. Individual Arts workshops will include t'ai-ci ch'uan, yoga, meditational techniques, wilderness survival, etc.
THE INTERNATIONAL TRANSLATION CENTER
The Translation Center will sponsor courses, workshops, and special programs concerned with translation techniques for a wide range of languages and will coordinate a unique degree program in translation.
THE WORLD RELIGIONS CENTER
The World Religions Center will sponsor workshops, conferences, and other special programs to aid in mutual understanding and good will among those of different faiths.
SPECIAL INTERNATIONAL STUDENT PROGRAM
In the future, there will be special emphasis on welcoming students from Asian countries to complement the University's strong offerings in East-West studies. Areas of special interest to Asian students will be added to the curriculum as well as strong English as a Second Language (ESL) Program.
DONATIONS
Dharma Realm University welcomes your help with donations. In addition to financial assistance, the University needs home and office furniture, books and scholarly journals, supplies and equipment, and the services of volunteers. All donations are tax deductible!
Watch for the opening of Gold Wheel Temple, Los Angeles, a branch of the Sino-American Buddhist Association. For information call (213) 223-2522. Lectures are currently being given at Gold Wheel Temple by the Venerable Master Hsuan-hua on the first weekend of every month.