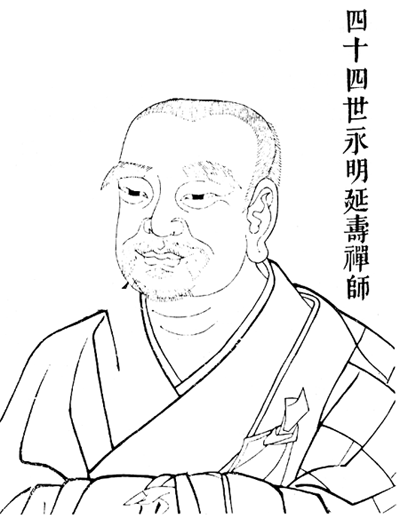 Ch'an Master Yen Shou, also called Yung Ming, was the Sixth Patriarch of the Lotus Society, that is, the Pure Land School. He started out as a Ch'an (Dhyana) Master, and single-mindedly cultivated dhyana-samadhi. Then afterwards he went to T'ien T'ai Mountain, to the T'ai Yuan Bodhimanda, and wrote out two slips of paper. On one of them he wrote "single-minded dhyana samadhi," and on the other one he wrote "being born in and adorning the Pure Land." So there he was with two pieces of paper and the question of whether he should cultivate Ch'an or the Pure Land. He then requested Great Master Chih Chieh to instruct him, rolled the slips of paper into balls, and went before the Buddhas. Most likely he put the slips of paper into a bowl and then drew one out: it was the one that said "Pure Land." He repeated this process seven times in a row, and the outcome was the same every time: "Pure Land." Consequently he devoted himself to the cultivation of the Pure Land. He performed the ceremonies every day at the Temple at Yung Ming Mountain one hundred and eight times, and after he was finished, he recited the Buddha's name. He then went to another mountain and recited the Buddha's name, and to many people his recitation sounded like the sound one hears in sea shells or like music from the heavens.
There were a good many unusual circumstances and strange events associated with him. He devoted himself to the recitation of the Buddha's name and then wrote a treatise entitled the Tsung Ching Lu in one hundred rolls. The Tsung Ching Lu is a very fine book and is his original composition. The fact that he began as a cultivator of dhyana samadhi and then switched over to the Pure Land explains why he has the title of "Ch'an Master." "Yung Ming" was the name of his temple.
THE MASTER WAS ONE OF THE WANGS OF YU HANG. He was from Yu Hang, the present-day Hang Chou, and his father and mother were surnamed Wang. ON T'IEN T'AI'S PILLAR OF HEAVEN PEAK HE PRACTICED SAMADHI. The name of the peak was Pillar of Heaven, and it was in the T'ien T'ai Range. THEN HE CALLED UPON THE NATIONAL MASTER SHAO, WHO CONSIDERED HIM A VESSEL, AND IN SECRET TRANSMITTED HIS ESOTERIC DOCTRINE TO HIM." Then, afterwards, he went to visit National Master Shao, who saw him as a vessel for the Buddhadharma. The National Master saw and understood him, or rather, they recognized each other. He entrusted him with the transmission of his Dharma in secret, handing on to him the Dharma of the Dharma Eye AND SAID, that is, National Master Shao said to him, "YOU HAVE AFFINITIES WITH MASTER YUAN. ONE DAY YOU WILL PROMOTE THE BUDDHA'S WORK ON A LARGE SCALE." He told him, "You and Master Yuan have a lot of affinities with each other. One day, in the future, you will be able to cause Buddhism to spread."
CHUNG I WANG REQUESTED THAT HE OPEN THE MOUNTAIN FOR LING YIN. A layman named Chung I Wang asked him to "open" the mountain, just as we did on the day when we went to Marblemount and opened the mountain so that a monastery could be built there. Ling Yin was the name of the monastery that was built on that mountain. THE NEXT YEAR HE WENT ON TO YUNG MING. A SANGHAN ASKED HIM WHAT YUNG MING WAS LIKE, ITS WONDERFUL PURPORT. While he was staying at Yung Ming a member of the Sangha asked him, "What is the wonderful purport of Yung Ming?" That is, what was the guiding principle, the wonderful meaning of Yung Ming Monastery. If someone asked you what the wonderful purport of Gold Mountain was, what would you reply? THE MASTER SAID, 'INCREASE THE INCENSE. The Master told him, "Add a little more incense." HE REPLIED, 'THANKS TO THE MASTER FOR INSTRUCTION.' The Sanghan thanked him. THE MASTER SAID, 'A PLEASURE: NO TRANSACTION.' When the Sangha member thanked him, the Master indicated that there was nothing happening, so what was he thanking him for? "A pleasure: no transaction," meant "don't mention it." THE SANGHAN BOWED AND THE MASTER SAID, 'LISTEN TO MY GATHA.' Thereupon the Sanghan bowed to the Master, who told him, "Seize hold of, listen to, my verse."
IF YOU WANT TO KNOW THE PURPORT OF YUNG MING, BEFORE THE GATE THERE IS A LAKE OF WATER;
THE SUN SHINES ON IT AND LIGHT IS PRODUCED, WINDS COME AND THE WAVES ARISE.
The Master's verse says that in front of the gate of Yung Ming Monastery there was a lake, and that when the sun shone upon the water of the lake, light was produced; if a wind came along, waves would rise up. HE ASKED, 'WHAT IS THE GREAT AND PERFECT MIRROR LIKE?' The same Sanghan asked the Master what the great, perfect mirror was like, what Great Perfect Mirror Wisdom THE MASTER SAID, 'A BASIN SMASHED TO SMITHEREENS.' He said the Great Perfect Mirror Wisdom was a basin smashed to bits. Now, what do you think that means?
IN THE EIGHTH YEAR OF K'AI PAO, THE TWENTY-SIXTH DAY OF THE TWELFTH MONTH, IN THE EARLY MORNING, HE LIT INCENSE AND ADDRESSED THE ASSEMBLY. In the eighth year of the K'ai Pao reign period on the twenty-sixth day of the twelfth month, this Dharma Master went in before the Buddhas, lit incense, and said to the great assembly, "I'm going now. I want to say goodbye to all of you." HE SAT IN FULL LOTUS AND MET HIS END. That is, he sat down in full lotus and went off to rebirth. HIS STUPA AT TA TZ'U WAS LATER MOVED TO YUNG MING. A stupa was built for him at Ta Tz'u Monastery, and then it was later moved to Yung Ming Monastery. SUNG T'AI TS'UNG CONFERRED THE NAME, CALLING IT 'SHOU SANCTUARY.' In the Sung Dynasty, Emperor T'ai Ts'ung bestowed upon it the name "Shou Sanctuary." A VERSE IN HIS PRAISE SAYS:
HE CHOSE A BASIN SMASHED TO BITS
TO ACT AS THE GREAT PERFECT MIRROR.
ILLUMINATING CH'IEN AND RUN,
TO HIGH AND LOW UNIVERSALLY RESPONDING.
THE TSUNG CHING WAS WIDELY OPENED;
IT INCLUDED WORTHY SAGES.
WITH RIVER-LIKE EYES, SEA-LIKE MOUTH,
EVERY HIT WAS RIGHT.
HE CHOSE A BASIN SMASHED TO BITS/TO ACT AS THE GREAT PERFECT MIRROR. He said, "That's the Great Perfect Mirror Wisdom." ILLUMINATING CH'IEN AND K'UN, /TO HIGH AND LOW UNIVERSALLY RESPONDING. Whether they were high or lowly he universally responded to them. He universally saved both the lofty and the lowly. THE TSUNG CHING WAS WIDELY OPENED. The Tsung Ching Treatise was widely read. IT INCLUDED WORTHY SAGES. Within it were Worthies and Sages. WITH RIVER-LIKE EYES, SEA-LIKE MOUTH, His eyes were as big as a river, and his mouth was as big as the sea. EVERY HIT WAS RIGHT. All that he over­saw he did correctly.
Someone, in consulting him about cultivation, asked, "Why in so long have I still not opened Enlightenment?" He replied in the following four terse stanzas of verse. There are people to this day who maintain that the four lines were not spoken by Dharma Master Yung Ming Shou. Actually, this is just idle speculation on the part of people who have nothing else to do.
WITH CH'AN WITHOUT THE PURE LAND
NINE PEOPLE OUT OF TEN TAKE THE WRONG ROAD.
IF THE SKHANDIC STATES APPEAR,
INSTANTLY THEY FOLLOW.
WITHOUT CH'AN BUT WITH PURE LAND
TEN THOUSAND CULTIVATE AND TEN THOUSAND GO.
YOU ONLY NEED SEE AMITASHA
AND WHAT WORRY IS THERE OF NO ENLIGHTENMENT?
WITH CH'AN AND WITH PURE LAND
ONE IS LIKE A TIGER WEARING HORNS.
IN THE PRESENT ACTING AS PEOPLE'S TEACHER,
IN THE FUTURE ONE WILL BE A PATRIARCH.
WITHOUT CH'AN AND WITHOUT PURE LAND,
IT'S THE IRON BED AND THE BRASS PILLAR.
IN TEN THOUSAND KALPAS AND A THOUSAND LIVES,
THERE IS NO ONE YOU CAN TURN TO.
That is, for every ten people who investigate dhyana, nine take the wrong road. If one of the fifty kinds of demonic states appear before one, it is very easy to follow along after that state and be turned by it. If people do not cultivate the Dharma-door of dhyana samadhi but do cultivate recitation of the Buddha's name, YOU NEED ONLY SEE AMITABHA AND WHAT WORRY IS THERE OF NO ENLIGHTENMENT? He said, "Once you get to see Amitabha Buddha, what are you worried about? How could you worry about not opening enlightenment?" If you both investigate Ch'an and cultivate recitation of Amitabha Buddha's name, you are even fiercer than a tiger sporting horns. If you do neither, you will fall into the hells and lie on the red-hot iron bed and hug the scorching brass pillar. There will not be anyone to help you, no one to protect you. You will not be able to rely on anyone.
ANOTHER VERSE IN HIS PRAISE SAYS:
THE TAX MAN LIBERATED LIFE,
ESCAPING EXECUTION.
THE SPY SAW HIS COLOR HAD NOT CHANGED:
HE WAS CALM AND CLEAR.
HE BOWED TO SUI YEN AND SOUGHT
TO DON THE ROBES AND SHAVE.
HE INHERITED THE DHARMA EYE,
CARRYING ON THE PROPER TEACHING.
HIS MOUTH ANOINTED WITH SWEET DEW
HAD UNOBSTRUCTED ELOQUENCE.
HIS MIND IMBUED WITH GHEE
HAD WONDERFUL TRANSCENDENCE.
THE TSUNG CHIN'; IN ONE HUNDRED ROLLS
WAS LEFT FOR HIS DESCENDENTS.
GREAT INDEED WAS YUNG MING,
HIS LIFE BOTH BRIGHT AND LOFTY!
He held the official position of tax collector. In performing his duties in this capacity he collected a lot of tax revenue which he used to buy fish, birds, and other captive creatures in order to liberate life. So doing, he used up all the money from the taxes, probably amounting to $50,000 in terms of present-day value. When the government discovered that he had used so much of its funds, he was arrested and sentenced to be beheaded. He was tied up and led off to the execution ground, because the punishment for using public funds was decapitation. Therefore, they took him to the execution block. Of course, the government knew that he had not used the money for himself, but had liberated life. Nonetheless, one cannot take public funds to liberate life without first obtaining permission from one's superiors. The penalty for unauthorized spending of government revenue was already established: execution by beheading. However, a government spy was stationed to observe his condition and determine whether he was afraid, whether he was pale as a ghost. But he was just the same as always; his color didn't change. There he was on the execution block, but he neither flushed nor blanched. Since he wasn't afraid, he wasn't pale as a ghost or flushed or purple or black. He was not any different from the way he always was, and he was very calm and lucid. That was because at that time he realized, "Even if I have to be killed for it, still it was a good thing to have liberated life." Even though the money hadn't been his, he still felt that what he had done was good, and because he was so calm, the government released him and he escaped execution.
After that, he saw through everything, and bowed to Sui Yen as his Master. He sought to put on the robe, or the precept kshaya, cut off his hair, shave his head, and become a bhiksu. He bowed to Master Sui Yen and left home, and this Master gave him the Dharma Eye transmission, telling him to continue the Dharma Eye and carry on the proper teaching. As a Dharma Master, he started out by cultivating dhyana, and once, while he was seated in dhyana meditation, he saw Kuan Yin Bodhisattva come and anoint his mouth with sweet dew. When he emerged from samadhi he was in command of great oratorical skill. When he lectured sutras and spoke Dharma, he could expound any sutra whatsoever, for his eloquence was unobstructed. Ghee, the most superior of the five flavors of milk products, imbued his mind, and he had world-transcendence, that is, he opened enlightenment and transcended other people. The treatise that he wrote, the Tsung Ching, comprised one hundred rolls, and was passed on to his descendents. It was able to teach and transform the people who came after him. Great indeed was Patriarch Yung Ming Shou, very great indeed! His life and his light knew no bounds, and for this reason he became the Sixth Patriarch of the Lotus Society.
-----------------------------------
One of the aims of the Institute for Advanced Studies of World Religions is to make available religious teachings that were previously inaccessible to the English-speaking student of religion. In this light, the Institute has undertaken the publication of the SUTRA OF THE PAST VOWS OF EARTH STORE BODHISATTVA, now available from the Buddhist Text Translation Society in paperback or hardbound. 235 pp. The volume includes the comprehensive commentary of Tripitaka Master Hsuan Hua without which it would be very difficult, if not impossible, for Western readers to understand the significance and applications of this sutra. The sutra tells of Earth Store Bodhisattva's great vow to rescue all beings from the hells.