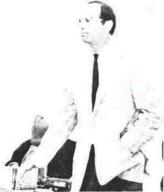 Upper left: Quentin Kopp, President of the San Francisco Board of Supervisors.
Following the initial ceremonies, he great assembly
continued to bathe the Buddha in turn while Shramanera
Heng Sure explained he significance of the day and
described the original bathing of he new-born Buddha
done by nine dragons. Children from the school then
delighted everyone with a song bout Amitabha Buddha
and put one and Buddhist scholars Professor Lewis
Lancaster, Professor P.S. Jaini, and Dr. Ruth
Inge-Heinze lent light to the historical significance
of the day and read verses in Sanskrit and Pali.
A Jataka tale told by Bhikshuni Heng Hsien, a discussion of the ten good acts by Upasaka Kuo Chou Rounds, and an exploration of cause and effect by Bhikshuni Heng Yin provided the assembly with a taste of the Dharma.
The Venerable Master Hua then spoke with an eloquence
and wisdom that moved the minds and hearts of disciples and visitors alike.