NEWS FROM THE DHARMA REALM

THE INFANT LIVES
In mid-March during the Kuan Yin Bodhisattva Recitation Session, Wong Kuo-chun and his family came to Gold Mountain Monastery to pay respects to the Venerable Master. The following day, Upasaka Wong; his wife and daughters, who were on their first visit to the United States', and T'an Kuo-shih, who hosted the Wongs during their stay in the Bay Area, returned to Gold Mountain to celebrate the birthday of Kuan Yin Bodhisattva by joining the great assembly in Universal Bowing to the Buddhas and Bodhisattvas and the special high meal offering which marked the new moon. After partaking of a vegetarian feast. Upasaka Wong joined the assembly for the afternoon of recitation and meditation.
Upasaka Wong, who had not had the opportunity to visit Gold Mountain for the past year and a half, was particularly happy to see the Master and re-express his gratitude. What was the reason for this special feeling of gratitude he had? Some months earlier, when his second daughter was born in Hong Kong, she weighed six pounds at birth but she had a sickness. The sickness caused her to be unable to digest and as a result her weight dropped to five pounds two ounces during the first month of her life. Deeply concerned for his daughter's welfare and alarmed about her gradual decline Upasaka Wong telephoned the Venerable Abbot of Gold Mountain in San Francisco and asked for his help in healing the infant.
The Master, who was planning a trip to Asia, said, "Wait until I come to Hong Kong and I will look at your daughter and then I will know if she can be cured or not." When the Master visited Hong Kong he saw the child and she and her mother and sister took refuge with the Triple Jewel and bowed to the Master as their teacher. After that the infant began to be able to digest her food and her little body, "about the size of half a loaf of bread," as the Abbot put it, began to grow stronger and stronger day by day. She is now a happy, healthy child whom, many people noticed during her recent visit to Gold Mountain, appears to be particularly alert and intelligent.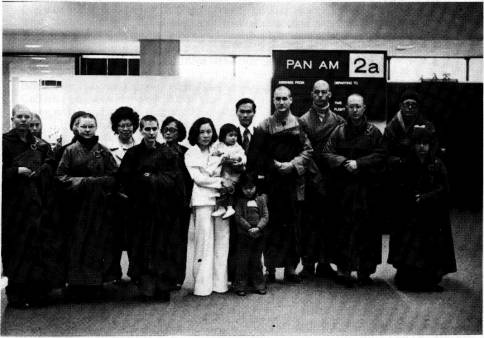 Members of Gold Mountain's Great Assembly accompanied the Wong family to San Francisco International Airport on the day they departed.

PURE LAND TALKS AT BUDDHA ROOT FARM. Instruction in the most widely used Buddhist meditation method: recitation of the name of the Buddha Amitabha of the Western Pure Land. Buddhists consider this the easiest and most certain path to enlightenment. In down-to-earth talks by the Venerable Master Hua, Abbot of Gold Mountain Monastery, this book tells you how. The talks were given during a seven day session held on Buddha Root Farm on the Smith River near Reedsport, Oregon, paperback, 70pp., $3.00. NOW AVAILABLE!