THE BODHI SEAL OF THE PATRIARCHS
BY THE VENERABLE MASTER HSUAN HUA
Translated by Bhiksuni Heng Ch'ih
Reviewed by Bhiksuni Heng Yin
Edited by Sramanerika Heng Chen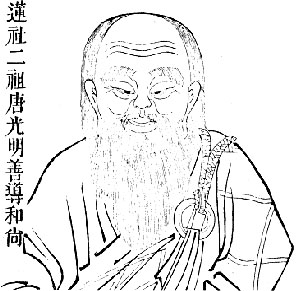 T'ANG DYNASTY HIGH MASTER SHAN-TAO,
FROM KUANG-MING (BRIGHT LIGHT) TEMPLE,
THE SECOND PATRIARCH OF THE LOTUS SOCIETY
NOTHING IS KNOWN OF THE HIGH MASTER'S ORIGIN. PEOPLE SAY HE WAS A TRANSFORMATION OF AMITABHA BUDDHA. IN THE CHEN-KAUN REIGN PERIOD HE MET CH'AN MASTER CH'O AT HSI-HO, AT THE PURE LAND'S NINE GRADES BODHIMANDA. He liked it there and SAID HAPPILY, THIS IS TRULY ENTERING THE ESSENCE OF THE BUDDHA. This is the most important, most wonderful Dharma door. CULTIVATION OF OTHER PRACTICES, WHICH ARE VAGUE AND REMOTE, IS DIFFICULT TO BRING TO ACCOMPLISHMENT. Other practices go the long way around. For instance, if you want to go to New York, it is best to take a direct flight. To go by way of Europe or Australia is taking the long way around. Other practices are like a place where no one goes, they are far away and hard to be successful in.
ONLY THROUGH THIS DHARMA DOOR CAN ONE QUICKLY TRANSCEND BIRTH AND DEATH. THEREUPON HE WAS DILIGENT, EARNEST, AND INTENSE. He was always diligent, never lazy. He didn't say from morning to night that he was too tired, that he had to rest. He didn't, for example, say that he wanted to leave home on the one hand and then, on the other hand, regret his decision and say he wanted to return to lay life. If he had been like that, what kind of home would he have left? What is meant here is that he rigorously cultivated and honestly did the work. He was extremely vigorous. It was not that he recited the Buddha's name for two and a half days and then skipped it for the next five, then again recited for five days and skipped it for the next ten. The meaning is that the more he recited, the more he liked to recite. When you cultivate you should be diligent and transcend others, but not from motives grounded in jealousy. You shouldn't fear that others will surpass you in their cultivation. Earnest means he liked to work, the more the better. He didn't fear suffering. He cultivated day and night, bowing to the Buddhas and reciting sutras. DAY AND NIGHT HE BOWED AND RECITED. He bowed to the Buddhas, but not like those who bow and wonder, "Why am I bowing?" He bowed to the Buddha to wipe out karmic of tenses. This high master bowed to the Buddha and recovered from his illnesses. But since you are lazy, you do not want to bow to the Buddha. You are afraid of the suffering involved, and yet you end up with even more suffering.
HE KNELT AND RECITED THE BUDDHA'S NAME. Day and night he knelt before the Buddhas. When he could no longer walk, he knelt. WHEN HIS STRENGTH WAS GONE HE DID NOT REST. When he reached the point where he had no more energy left at all he still wouldn't quit.
HE EXHORTED OTHERS TO PRAISE THE BUDDHA'S NAME CONTINUALLY IN ORDER TO BE BORN IN THE PURE LAND. If you recite constantly you can be reborn in the Land of Ultimate Bliss also. IF THERE IS CONTINUAL RECITATION-If you can recite without ever ceasing, then you certainly can be reborn there. AT THE END OF THEIR LIVES. If you can recite continuously, like waves on water so that one follows on the next without cessation, then at the end of your life--if you recite the Buddha's name as long as you live, rather than just waiting until it is time for you to die to start reciting--IF TEN RECITE, TEN WILL BE REBORN; IF A HUNDRED RECITE, A HUNDRED WILL BE REBORN. If ten people recite the Buddha's name, all ten of them can be reborn in' the Land of Ultimate Bliss. If a hundred or a thousand people recite, they can all be reborn there. If you recite continually without ever pausing, you can certify to this.
WHEN THE MASTER RECITED THE BUDDHA'S NAME ONCE, ONE RAY OF LIGHT SHONE FORTH FROM HIS MOUTH. When Dharma Master Shan-tao recited Amitabha Buddha's name once, one light beamed from his mouth. WHEN HE RECITED TEN TIMES, A HUNDRED TIMES, IT WAS THE SAME. Now many methods are being sought to save on electricity, but such a problem would not have bothered this Dharma Master, because he radiated his own light. So you should not look lightly on this Dharma door or consider it very simple. It is not an ordinary thing that light came forth from his mouth. SUDDENLY ONE DAY HE CLIMBED A WILLOW TREE, FACED WEST AND BY WAY OF FAREWELL SAID, "I VOW TO BE BORN IN THE PEACEFUL PLACE. "HE THREW DOWN HIS BODY AND WAS GONE. Suddenly one day, the text doesn't mention what day particularly, the Master climbed a willow tree, faced the West, and said, "Goodbye, I want to be born in the peaceful land, that is, the Land of Ultimate Bliss." Then he threw himself down and died. Ordinarily people would think that he accidentally slipped, and that his death was not intentional, but when he threw himself out of the tree he landed with both feet on the ground in a standing position. It was no accident. He flew out of the tree, landed standing upright on the ground, and at that moment he went off to rebirth.
THE EMPEROR KAO TSUNG RECOGNIZED HIS UNUSUAL SPIRIT. The emperor knew that the Master was an unusual person. AND SENT A MEMORIAL PLAQUE TO THE TEMPLE INSCRIBED WITH THE WORDS "BRIGHT LIGHT." THE VERSE SAYS:
VIGOR BRINGS PERSONAL BENEFIT:
NEVER STOP, DAY OR NIGHT.
BENEFIT TO OTHERS IS ALSO THUS.
IT IS NECESSARY TO RELY ON A MODEL.
HE WROTE ARTICLES AND SPOKE VERSES,
AND WAS DILIGENT AND COMPASSIONATE.
HE EMITTED A LIGHT WITH EVERY RECITATION.
WHEREVER HE WAS THERE WAS A WONDERFUL LIGHT.
Don't just learn how to benefit yourself and not be concerned with benefiting others. Don't be selfish and only know what is good for you. To benefit others is the same as to benefit oneself. So the verse says you should take a reliable model. When there are things to do you should do them well; learn how to do things the best way. The Master wrote essays and spoke verses. He was vigorous and compassionate. He emitted a light with every recitation of the Buddha's name, and every place he went was pervaded with a wonderful atmosphere.
ANOTHER VERSE IN HIS PRAISE SAYS:
HAVING COME FROM NOWHERE,
WHO COULD HE BE?
WITHOUT HAVING GONE ANYWHERE
HE'S DEVOID OF A NAME.
OUT OF THE TEACHING
EMERGED A SPIRITUAL LEADER,
A WORLD LEADER,
A GREAT SHRAVAKA.
HIS SPIRIT RESTS IN THE PURE LAND
ON A SUPERIOR GRADE LOTUS.
HE APPEARED IN THE SAHA WORLD
AS A VENERABLE ONE AMONG THE SANGHA.
WHEN A TRANSFORMATION OF AMITABHA APPEARS,
WHO CAN RECOGNIZE HIM?
THE HIGHER ONE LOOKS, THE LOFTIER HE IS,
THE DEEPER, THE MORE PROFOUND.
We don't know where he came from, so how can we know who he is? And since he didn't go anywhere, how can he have a name? All he has is a name given him when he left home; He has no lay name. He is a leader of the world and a great sound hearer. After being led to the superior grade of the lotuses in the Pure Land, he appeared in the Saha world as a venerable one among the Sangha. Who can know for sure who is a transformation body of Amitabha Buddha? At that time no one recognized him; no one knew for certain that he was a transformation body. There were those who were jealous of him and said he was a weird demon, because, after all, every time he opened his mouth a Buddha came out. Or, they would say that he probably had a flashlight stuck in his throat (something comparable to a flashlight), and that this would account for the light he emitted. In general, many of his contemporaries slandered him. If they had admitted that he was authentic, then people would have believed in him rather than in them. So, because of their jealousy, they would not admit that he had spiritual skill. Now people look up to him, and esteem him as very high, and very deep. His heights are unreachable, his depths unknown. No one can fathom him.