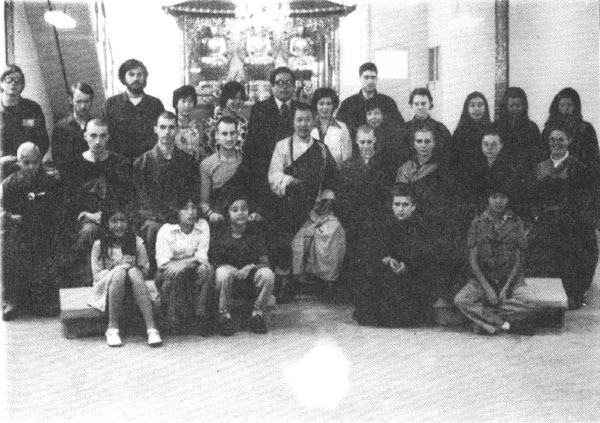 BUDDHISTS FROM AFRICA VISIT GOLD MOUNTAIN
Shown above are members of the Gold Mountain assembly welcoming C.C. Lee, his wife Wong Kuo-sung, and their three children to the Monastery. The Lee family, who reside in Africa, came to pay respects to the Venerable Master and joined in the Avatamsaka Assembly. Kuo-sung first drew near the Master many years ago when she was in Hong Kong and after the members of her family took refuge with the Triple Jewel they had many miraculous and auspicious experiences which, in addition to averting the disasters at hand, also served to deepen their faith, (see VBS #42). Over the years the Lees have continued to protect the proper Dharma as transmitted by the Venerable Master and during their visit to Gold Mountain they expressed their delight in finding Sangha members engaged in the rigors of steadfast ascetic practices as well as in the study, translation, and propagation of the Dharma.
Everyone in the Gold Mountain Assembly enjoyed the Lees visit and made a special effort to express their welcome.
---

HAVE YOU HEARD? THERE ARE LECTURES EXPLAINING ORIGINAL TEXTS EVERY NIGHT AT GOLD MOUNTAIN. THE SUTRA NOW BEING EXPLAINED IS THE AVATAMSAKA, LITTLE OF WHICH REMAINS IN THE ORIGINAL SANSKRIT BUT MOST OF WHICH IS RETAINED IN THE CHINESE. THERE ARE ON-THE-SPOT TRANSLATIONS OF CHINESE EXPLANATIONS INTO ENGLISH. COME AND LEARN.