WHEN HE PRESENTED THESE MASTER FENG REPLIED, "STRANGE. SOMEDAY IN THE FUTURE YOU WILL BE THE EMPEROR'S TEACHER."
IN THE YEAR WU TZU OF THE T'IEN CH'ENG REIGN, THE MASTER ANSWERED THE SUMMONS OF EMPEROR MING. AFTER TEA, THE MASTER PICKED UP THE TEA TRAY AND SAID, "DO YOU UNDERSTAND?"
THE EMPEROR REPLIED, "NO."
THE MASTER SAID, "KINGS OF MANKIND AND KINGS OF DHARMA SHOULD EACH GAIN THEIR OWN WISDOM AND UNDERSTANDING." THE MASTER STAYED THERE TEN DAYS AND THEN, PLEADING ILLNESS, TOOK HIS LEAVE AND RETURNED TO KU MOUNTAIN. ON THE SECOND DAY OF THE TWELFTH MONTH, HE BATHED, ASCENDED THE DHARMA SEAT, ANNOUNCED HIS DEPARTURE TO THE ASSEMBLY, AND LEFT. AT HIS CREMATION (JHAPITA) AN AUSPICIOUS GLOW AND FRAGRANCE SETTLED ON THE. MOUNTAIN AND SARIRA OF FIVE COLORS WERE FOUND IN THE REMAINS. HIS STUPA IS LOCATED ON KU MOUNTAIN IN CHENG CH'IN, WHICH IS WHERE THE PATRIARCHS ARE WORSHIPPED.
A VERSE IN HIS PRAISE RUNS:
ACCORDING TO THE PREDICTION OF FENG,
HE BECAME THE MASTER OF A KING.
HIS MEDITATION BROKE THROUGH SOLID ICE,
AS HE ROAMED AND SPORTED IN EMPTY SPACE.
AFTER TEA HE PICKED UP THE TRAY,
HE OVERTURNED THE EARTH AND SKY.
KINGS OF DHARMA, KINGS OF MANKIND—
THE WISDOM-SUN EVERYWHERE SHINES.
ANOTHER VERSE IN HIS PRAISE RUNS:
FOR WHAT IMPORTANT REASON DID THE HOLY SAGE DESCEND?
TO REGARD THE BEINGS AND BESTOW THE TEACHING, GUIDING WORTHY MEN.
CLEVER ENTICEMENT INDEED, HIS WORDS ARE A SKILLFUL MEANS,
AND IT IS HIS EARNEST WISH THAT WE WILL SOON RETURN AGAIN.
HSUEH FENG PROPHESIED HE'D BE THE TEACHER OF A KING.
IN THE KU MOUNTAIN RELIQUARY THE OLD BUDDHA SITS, TRANSFORMED.
DWELLING IN TRUE PERMANENCE, YET FREE TO COME AND GO,
HE'S JUMPED RIGHT OFF THE RIM OF THE SPINNING SIX-PATH WHEEL.

HOLY SAGE refers to the fact that, as the dream his mother had indicated, the Master was a Pratyeka Buddha, a sage of the Lesser Vehicle. It is the Master EARNEST WISH that we will SOON RETURN to our original home, our inherent Buddha nature, and quit running around outside. Although FREE TO COME OR GO, the Master's TRUE nature is eternally present. He has JUMPED RIGHT OFF the six-path wheel of rebirth. The OLD BUDDHA, that is, the Master, announced his departure and then completed the stillness on KU MOUNTAIN.

The Chinese original for the text of the preceding article appears on the following page.

Cover Gatha: Composed by the Venerable Master Hua
Translated by Bhiksu Heng Kuan
Calligraphy by Upasaka Lee Kuo Ch'ien
Layout by Upasaka Kuo Hui Weber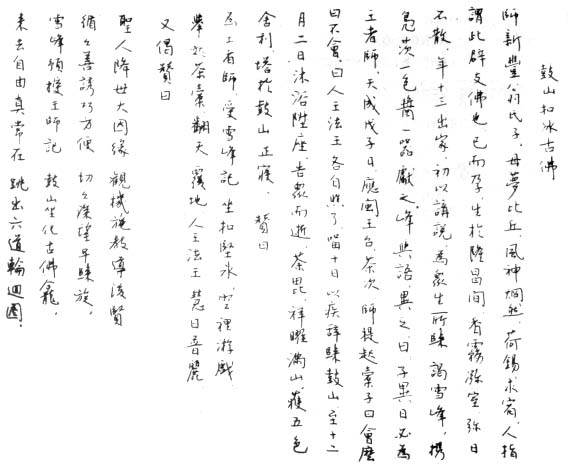 Erratum:
The Chinese which appears below is the original text for Bodhi Seal of the Patriarch "The Ancient Buddha Ho Ping of Ku Mountain ." It was inadvertently omitted from page four of issue 53, August, 1974, when the printing plates were being made. The printer apologizes to Vajra Bodhi Sea readers for this inconvenience.