DAILY RECORD OF THE SAGES' TRAVELS
BOWING ONCE EVERY THREE STEPS
FOR WORLD PEACE.

10-22-73: A very windy, wet & fireless eve. did not dampen our spirits. It rained all-night and today as well. Proceeded about 2 miles when Kuo Ch'in came w/hot lunch. Rain felled large branches in road. Kuo Ch'in took some clothes back & dried them for us. Proceeded about 5 or 4 more miles to Five Rivers. Previously, Kuo T'ung brought some hot tea at exactly right moment. Spent eve in Kuo Tun & Kuo Ch'in's garage-First dry eve of the trip!!!!!!!!!!

10-23-73: Kuo Tun returned us to where we left off bowing. Made exactly 2 Mi when Kuo Ch'in, Kuo Mi & Chan Ni came w/lunch. Yesterday, when asked what his Dharma name was, Kuo Mi promptly and loudly replied, "BUDDHA!" After lunch, passed through Olema & approached Pt. Reyes Station. A reporter from local paper came & took photos & talked a bit. A hiker w/dog has wished to be allowed to accompany us and will stay w/us tonight. Made more than five miles today - nice weather. Tomorrow we pass through Pt. Reyes Station. Camped near dry creek bed in small valley. Earlier Kuo T'ung came by w/milk & apple juice - Spoke a bit with our guest—accepts all religions & doctrines as true & valid.

10-24-73: Cold-cold-cold-frost on ground when we woke up. Packed up--parted company & passed through Pt. Reyes Station. Kuo Hsing was there & joyfully followed along for a while bowing about 15-20 feet behind Heng Ju. The weather was superb. Made three miles before a late lunch. Kuo Tun, Kuo Ch'in & Nome & Chan Ni did not expect we had gone so far, so it was late when they found us well beyond Pt. Reyes Station. As they inquired from people as to our whereabouts they asked a girl from the Rancho Bolinas, who had seen us 2 days previous. She came during lunch today & seemed to be very interested in the whole trip. She gave some vegetables to Kuo Ch'in for our lunch tomorrow. Gave her a card & perhaps she will show up in SF. Made more than two miles in the PM. I stumbled onto an abandoned ramshackle house, which suited us fine for the eve. Made a fire 5 dried some wet things.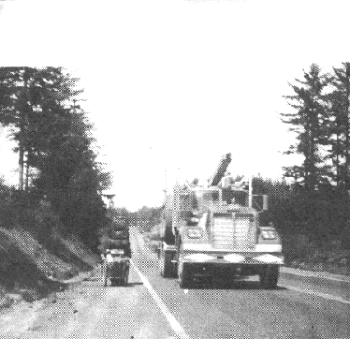 10-25-73: Dry & warm but very noisy evening in cabin, as many living beings (rats, deer, etc) were working while we rested. Rose early & made 2.5 miles when Kuo Ch'in & 2 sons came & offered lunch. Many people passing & looking but not speaking. Right after eating, Kuo Ch'in left, & a car came by & slowed & went to turn around. It was Kuo Joe, w/camera & paper, who wrote an article on us. He gave us some supplies. As we were about to stop and rest for the evening Kuo T'ung came by w/some milk and orange juice. We made camp in a cow pasture above Route 1 overlooking Tamales Bay.
Despite delays, made 4.5 mi., and are just short of Marshall. Passed a man in Marconi who said he was associated w/Zen Center in SF & was happy to have us at his "humble corner."

10-26-73: Spent a windy, moist night in field. Rose early & made 5.5 mi. before Kuo T'ung came w/lunch offering. Just as we were starting, a girl, Tamara, stopped and said "Too late. I wanted to offer you lunch today." We did not recognize her. After lunch Dan & his dog Inverness offered us an apple each. He said he saw an article on us in the Pt. Reyes Light. He showed us the front-page story. We figured Tamara had seen it. Shortly after lunch, someone offered Heng Ju a grapefruit. At this point Channel 5 KPIX TV approached Heng Ju camera & mike in hand. Heng Ju kept bowing, and told them to see me. By this time, traffic was stopping 5 people were gathering & looking. The owner of a seafood restaurant, having seen us pass by, came bouncing out to offer us lunch. The cameraman kept filming. Then they caught up to me. Took shots & asked a few questions, and after their last shots, they departed. Tamara, the girl who wanted to give us lunch, had been observing all this & as Heng Ju had been bowing for quite a spell without respite, we sat down to rest & talked. The black man on a motorcycle stopped and joined the conversation. He had seen us from the restaurant & was convinced that Heng Ju's walk was "a work of God." We exchanged views & after a few minutes he was off. He believed in the Bible & God. Tamara had been associated w/Zen Center for 4 or 5 years & now lives on her own out here. We left & made 5 1/2 miles before resting.

10-27-73: Spent a usual night under a tree, no tent. Upon reaching Tamales, we found the town's atmosphere electric as if set out for watching a parade. There were 2-motorcycle state police & as I passed through, everyone was motionless except for their eyes, which followed my every step through the town. Someone said good morning. When Heng Ju followed not far behind the same electric atmosphere prevailed as people lined the street. It was very tense until someone offered Heng Ju some donuts & it seemed as if the whole town sighed in relief. Upon reaching the other side of town, we discovered it was High School Homecoming & in fact the town was set out & ready for the parade which started about 1 minute after Heng Ju passed through. Someone else gave some vegetables & a small piece of cheese to Heng Ju; another gave some crackers & cheese. Outside of town, 5 high schoolers from Tamales stopped to talk. They gave bread & cheese etc. etc. They left as Kuo's Tun, Ch'in, Mi & Chan Ni came w/lunch. During lunch 2 other high schoolers stopped we chatted. One was on the football team from Tamales. Made 5 miles before lunch. Made 2 more miles after lunch & camped in cow pasture under tree. A Persian lady gave us some much-needed water & commended us. Got offering of fresh milk from nearby dairy. Things have turned around because of the news coverage.

10-28-73: Slept sitting under a tree, awoke & started off. At a rest stop 1.5-mi. out, a woman offered us breakfast, but as we told her we only ate but once a day, she gave us cheese sandwiches to go. Upon reaching the Marin-Sonoma line, it was past 11:50 so we continued to about 1 mile outside of Valley Ford, and began to eat lunch, which was given to us the evening before today. At 1:50 Kuo Mien from Occidental showed up w/lunch. She had not seen us on the road, but was not too late, since it was time to set back the clocks. It turned out to be 12:50, not 1:50 so we finished lunch. Went through Valley Ford where a Sonoma County Sheriff warned us to be careful etc. He was pleasant enough.