Pictorial Biography of the
Venerable Master
HSU YUN
-Continued from issue #47
By
TRIPITAKA MASTER HSUAN HUA
Translated by Disciple Bhiksu Heng Yo
Illustrated by a Student of Prajna
RECEIVES THE INVALUABLE COMPLETE PRECEPTS #16
Upon reaching Yung Ch'uan Monastery on Ku mountain, he bowed to the High Master Ch'ang K'ai as his teacher under whom he donned the monastic robes and shaved his head. He received the complete Bhiksu precepts under the auspices of the Ven. Master Miao Lien, and was given the names Yen Ch'e and Ku Yen, as well as the designation Te Ch'ing. After leaving the home life and receiving the precepts, he withdrew and began cultivation in seclusion. He exhaustively investigated the principles of the sastra entitled
Awakening Faith in the Mahayana, as well as various sutras, trying to select and embody their essential points.
The Gatha says:
He received the precepts and immediately entered the position of all Buddhas;
Maintaining the precepts purely and clearly, just like the round full moon.
His karmas of body, mouth, and mind, were free from flaw or blemish.
Renouncing the self the Master Yun understood "who."1
1 A meditational device.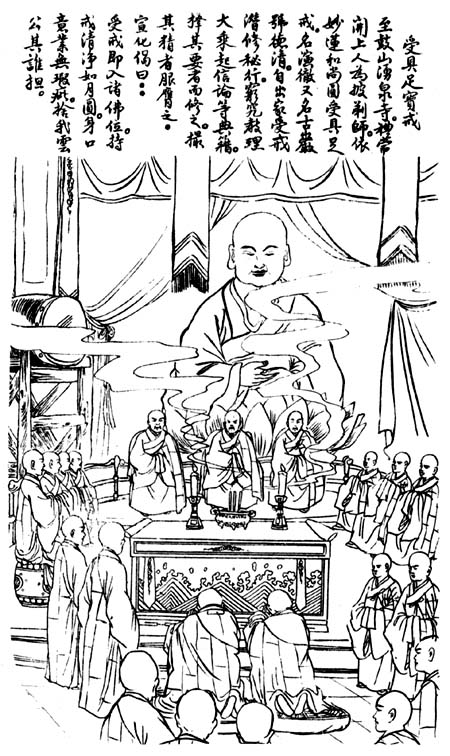 To be continued