News from the Dharma Realm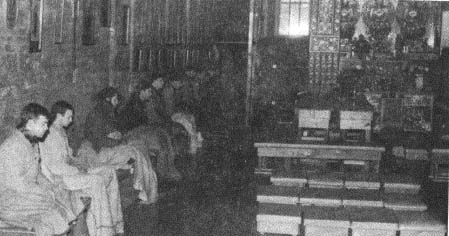 Shown here are some of the Chían adepts who participated in this winterís meditation sessions. Bhiksu Heng Ju who is bowing once every three steps over a 1,000 mile route hoping to evoke a response from the Buddhas and Bodhisattvas of the ten directions in order to bring peace to the world, and his fellow cultivator on the journey, Bhiksu Heng Yo, took time out from their bowing to attend. The awesome presence of these two cultivators inspired all participants with their unprecedented vigor. The session was also attended by Bhiksu Miu King, Abbot of Hong Kongís Tung Lum Nien Fah Tong who was a guest at Gold Mountain last autumn. See story below.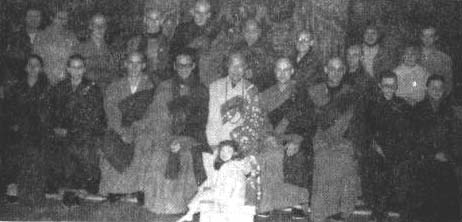 Shown here with the Venerable Master Hua and some of the four-fold assembly at Gold Mountain are six new novices who recently left the home life at Gold Mountain. Story below.
ORTHODOX SANGHA FLOURISHES
On November 27, 1973, six seekers of enlightenment had their heads shaved and were received into the Orthodox Sangha at Gold Mountain with the transmission of the ten novice precepts in the Jeweled Hall of the Great Heroes. One of these, Sramanerika Heng Fu from Hong Kong, has been a disciple of the Venerable Master Hua since the early 1940's. The others all young Americans, are extra-ordinarily energetic, talented and devoted Buddhist adepts, as their biographies and the broad scope of their vows, which will appear in succeeding issues of Vajra Bodhi Sea, will show.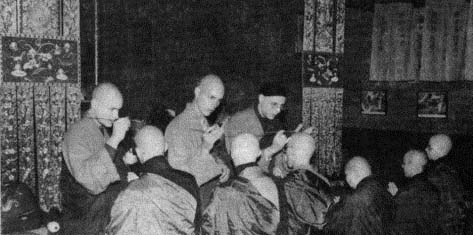 Shown above from left to right are Sramanerikas Heng Chen, Heng Chien, and Heng Fu, and Sramaneras Heng Lu, Heng Fu, and Heng Kíung.
Shown below (facing) they are shown receiving incense burns in their heads (twelve in all) as an offering to the Buddha.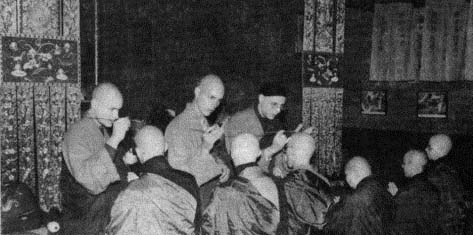 WINTER MEDITATION
This winter at Gold Mountain Monastery the Sino-American Buddhist. Association again sponsored three weeks of cultivation. The first session honored the anniversary o£ Amitabha Buddha's birth, and consisted of recitation and mindfulness of the Buddha's name from four in the morning until ten in the evening each day for seven days. The Amitabha Sutra was recited in the morning, noon, and night, and the hours in between were filled with alternate walking and sitting, oral and silent, mindfulness of the phrase NA MWO E MI TWO FO. The Great Transfer of Merit rounded off each day. Participants took only one meal a day.
The second two weeks (Dec. 22nd, 1973, through Jan. 5th, 1974) consisted solely of Ch'an (Dhyana) meditation. More than thirty people attended the session, which began at 2:30 M and continued until twelve midnight for fourteen days. Again, only one meal a day was taken by participants. Eleven hour-long sitting periods (one a two-hour period in the late afternoon) Interspersed with twenty-minute periods of walking meditation and two instructional talks filled out each day. During the two and one half-hour rest period from midnight until 2:30 AH, several meditators chose to remain sitting in the meditation hall. The strict adherence to the rules of the hall and the serious intent of fellow-participants provided a conducive and stimulating atmosphere) and those who participated were eager to join the next sessions which will be held in the spring. Photos on these pages were taken during the session. The schedule:
FOURTEEN DAY CH'AN SESSION:
December 22nd, 1973, through January 5th, 1974. Daily Schedule.
AM 2:30 Morning Boards, Rise
3:00 Chant Three Refuges
3:05-4:05 1st Sit One Hour
4:05-4:15 Milk Served
4:35-5:35 2nd Sit One Hour
5:35-5:55 Walking Meditation
5:55-6:55 3rd Sit One Hour
6:55-7:15 Walking Meditation
7:15-8:15 4th Sit One Hour
8:15-8:30 Walking Meditation
8:30-9:30 5th Sit One Hour
9:30-10:00 Instructional Talk
10:00-11:00 Sit
11:00-11:40 Daily Meal
11:40-12:10 Walking Meditation
PM 12:10-1:10 6th Sit One Hour
1:10-1:30 Walking Meditation
1:30-2:30 7th Sit One Hour
2:30-2:40 Tea Served
2:40-3:00 Walking Meditation
3:00-4:00 8th Sit Two Hours
4:00-4:10 Stand in Place
4:10-5:00 Continue Sit
5:00-6:00 Rest Period
6:00-6:10 Walk
6:10-7:10 9th Sit One Hour
7:10-7:-- Walking Meditation
7:---8:-- Instructional Talk
8:---8:30 Walking Meditation
8:30-9:30 10th Sit One Hour
9:30-9:40 Milk Served
9:40-10:00 Walking Meditation
10:00-11:00 11th Sit One Hour
11:00-11:20 Walking Meditation
11:20-11:55 Sit
11:55-12:00 Chant Three Refuges
Similar sessions will be held in mid-spring and early summer. Any interested person should contact Gold Mountain.