The Bodhi Lectern
ACCIDENT UPON ACCIDENT, ACCIDENTALLY
MEETING THE BUDDHADHARMA
Kuo Hsu (Sharyn) Saario was born in San Mateo, California, on July 16th, 1947, to Nick and Eileen Saario. Her grandfather, a Russian named Nicholai Mihalovich Saharufski, shortened his name to Nicholas Saario when he came to the United States. After the war life was hard; a suit of clothes and a place to live were hard to find. When she was an infant her parents lived with her grandmother in San Francisco, and then a year later moved to Seal Beach, California. She was four years old when her mother lost control of the car she was driving and smashed into a palm tree. Kuo Hsu hit the windshield, and after the glass was picked out of her mouth, she had seven stitches. Then she broke her leg and was in a cast for six months.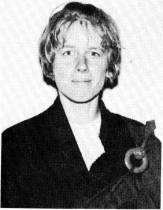 Her father returned to the Air Force and the family moved to San Marcos, Texas. She was six years old when she fell from a cross section on top of a house-frame and cut her leg, entailing 32 stitches. After that she fell off a bus, hit her front teeth on the curb of a sidewalk, and broke them. She had a lot of accidents.
When she was ten years old the family drove a 1954 Chevy up the Alcan Highway in winter to Anchorage, Alaska, where they took up residence at Elmendorf AFB and traveled around Alaska by car and float plane. Next they moved to Warner Robins, Georgia. When they moved to Lincoln, Nebraska her father was promoted to a Lt. Col., and there she graduated from Lincoln High School in June 1965 with a major in both French and Spanish.
Following graduation she went with her parents to Vandenburg AFB, California, and stayed for the summer. That fall she left her parents and moved to Mary Ward Hall at San Francisco State College to continue studying French and Spanish. While at college she began exploring a wide variety of religions, pseudo-religions and consciousness-expanding techniques, none of which proved to be ultimately satisfactory. The death of a friend, which shocked her into an understanding of impermanence, prompted this search.
She became a vegetarian and one-day while she was shopping for vegetables in Chinatown she happened to see a tall American monk in a gray robe walk across the street followed by a Chinese grocer balancing a bag of rice on his shoulder. They both entered the Buddhist Lecture Hall. Without a momentís hesitation Sharyn went inside where a layman told her the schedule. She returned the next afternoon and began to attend regularly the evening lectures on the Lotus Sutra. Although she was a habitual smoker she completely stopped and also gave up other bad habits. On December 29th, 1968, she and her boyfriend both took refuge with the Venerable Master Hua and she received the Dharma name Kuo Hsu. After becoming a disciple she wished to cultivate and study the Proper Dharma which the Master transmitted, so she left her boyfriend and began studying Buddhism full time. Soon she received the Bodhisattva Precepts. Her aptitude for languages combined with a good memory enabled her to memorize long passages of the Surangama Sutra. She has continued to develop this skill and presently can recite the Amitabha Sutra in Chinese from memory. Kuo Hsu is also a developing artist who specializes in painting Buddha images. She has participated in several intensive meditation sessions held at the Buddhist Lecture Hall and Gold Mountain Monastery.
At present Kuo Hsu works as a typist to help support the Monastery. This summer she will begin classes at San Francisco City College where she will continue work toward a BA in Chinese.
Contributors Who Have Generously Encouraged The Spread of the Good Dharma
Upasika Kuo Ken Kane $10.00
Upasika Kuo Ling Berger 40.00
Anonymous Upasaka 100.00
Upasika Ho Kuo Ho 28.00
Upasaka Kuo Fa Olson 100.00
Upasika Kuo Chao Eberle 30.00
Dharma Master Heng Ju 86.00
Upasaka Alan Wong 20.00