The Bodhi Lectern

PROFESSOR TSENG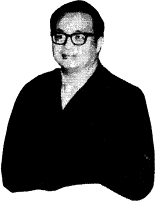 Professor Maurice H. Tseng, a descendent of the 74th generation in direct line from Master Tseng (One of Confucius' leading disciples), was born in November 1927 and received a large part: of his schooling in Peking. A wide range of travel, study, and work characterizes his life. During the war he changed residence frequently, from Peking to Shanghai, Hong Kong, Hankow, and Kunming, and, in 1945, he returned to Nanking University to study history and political science. In the autumn of 1948 he was appointed research assistant for the Ministry of Industry and Commerce, and joined a government mission to the United States and Europe. He remained in Europe for over a year to study the post war economic situation.

In the spring of 1949 he was offered a scholarship by the United States Department of State and studied foreign affairs, international law, and economics. After three years of study he was offered a position at the prestigious Defense Language Institutes in Monterrey, then known as the Army Language School. In 1956 he accepted a position at Yale, joining the staff as an instructor in Mandarin. He also did graduate work in Chinese Language and Literature at Yale.

In 1961 he was invited to San Francisco State College to establish the first Summer Institute of Chinese Language. This program, the first of its kind, was funded by a federal grant and was intended to train high school and junior college teachers in Chinese. In 1962 he served as associate director of the Carnegie Chinese Project, to develop resources for teaching Chinese in high schools. One of the results of this project was the four-volume work, Chinese Mandarin, used in most high schools today. In 1964 he accepted a full-time position on the staff at San Francisco State and with one short respite he has held the position as the coordinator of the Chinese program there since 1967. He has written widely about the Chinese language and has been involved in the preparation of general texts for teaching Chinese, serving as a co-editor of the Yale Dictionary of Spoken Chinese and as a consultant for the Yale Chinese Language series to name a few.

Professor Tseng has visited Gold Mountain on several occasions and was very pleased to have the opportunity to meet with the Venerable Abbot. He has attended the Avatamsaka Dharma Assembly and met the Sangha of Gold Mountain. Impressed by the wide variety and quality of the activities and work at Gold Mountain, he has offered to advise and assist Vajra Bodhi Sea Publication Service and the Sino-American Buddhist Text Translation Society in any way he can. The members of the Association and Publication Society are very happy to have the aid of such an eminent and able scholar and teacher.

Professor Tseng currently lives in S. San Francisco with his wife, Gloria, and his two sons, David and Steven.