The Bodhi Lectern
INTRODUCING THE EMINENT UPASIKA
HSU I-CHUN
Upasika Hsu I-chun was born in Hunan, China, on April 14, 1918. She received a bachelorís degree from Pekingís China University, and has used her education to teach; she has been a lecturer in Chinese at Japanís Ying Hsiao Yuan University. An expert Chinese cook, she is the mother of five sons and daughters, all of whom are studying or working in the United States. Her husband, Tsang Kuang-en, is a university professor.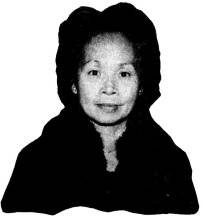 A devoted Buddhist for more than twenty years, Upasika Hsu has cultivated meditation and has practiced going into complete seclusion. (See News From the Dharma Realm, this issue), the first time at Taipeiís Yun Ho Monastery, where she sealed herself off for nine days. She took refuge with the Venerable Master Tao Yuan at Píu Tzu Temple in Taipei, Republic of China, in 1949, and the five precepts at Hai Hui Temple in Keelung in 1967. Her Dharma name is Jen I.
Upasika Hsu is a sincere and vigorous cultivator of the Buddhadharma. She has traveled in Asia and America, and she currently lives at 245 Echo Avenue in Campbell, California.
Vajra Bodhi Sea contains installments of THE LOTUS SUTRA, THE EARTH STORE SUTRA, and THE AMITABHA SUTRA, all with detailed commentaries; a pictorial biography of the Venerable Patriarch Hsu Yun; portraits of high masters of the past and present; Sanskrit lessons; articles; news and stories. No other English language publication present, the full expanse of the Buddhadharma, its history, theory, practice, and the full breadth of the teachings If you wish to cross the Bodhi Sea, this magazine is your Vajra boat.