The Bodhi Mirror
INTRODUCING THE EMINENT DHARMA MASTER
BHIKSU JIH CH¡¦ANG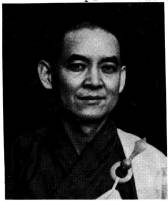 Dharma Master Jih Ch'ang was born in China in 1929. After graduating from Ch'eng Kung University with a degree in civil engineering, he took advantage of his deep good roots and left the home life. In 1966 at Taiwan's Fa Yuan Temple he was received by his teacher, Dharma Master Pen Ming, who shaved his head and transmitted the novice precepts to him. He later received the complete precepts of a bhiksu from his Precept Master Cheng Lien.
In September of 1972 his talents and accomplishments made him eligible to travel to the United States. Upon arriving he took up residence at New York's Temple of Great Enlightenment. He is now serving as an attendant to the Elder Master Yin Hsun who arrived in the United States from Taiwan in January of this year.
Climb Gold Mountain
During the 1973 summer the Sino-American Buddhist Association, Vajra Bodhi Sea Publications and Gold Mountain Dhyana Monastery will jointly sponsor three five week Sutra Study and Meditation Sessions. During these sessions daily explanations of important Buddhist Sutras will complement approximately five hours of meditation in addition to sutra and mantra chanting. The final week of each session will be devoted solely to the practice of a single dharma, either Ch'an meditation or recitation of the Buddha's name. The dates for the sessions are:
First Session¡XJune 3rd through July 7th;
Second Session¡XJuly 8th through August 11th;
Third Session¡XAugust 12th through September 15th.
You may attend one, two, or all three of the sessions. The closing date for registration for the first session is May 26th, 1973. There is no better way to introduce yourself to Buddhism and the path of cultivation than by attending one of these sessions. For further information, call or write the Sino-American Buddhist Association, 1731 15th St. CA, USA. (415) 6215202.