Hung Fu Temple Opening
September 3rd, 1972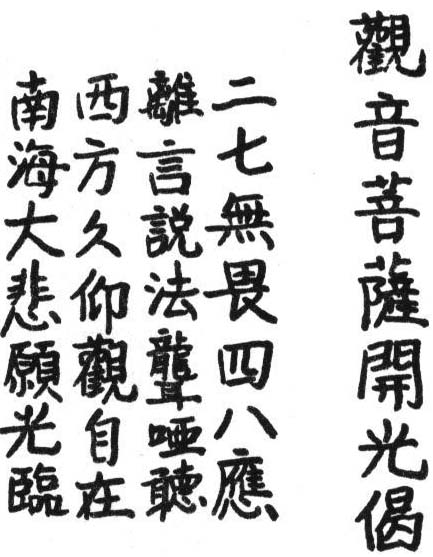 --continued from issue 34
Opening the Light for Kuan Yin Bodhisattva

Four times eight are the responses; two times seven, no fear.
Apart from words, he speaks the law; the deaf and dumb all hear.
The West has long looked up to The One Who Views Own Being,
Of great compassion from the Southern Seas, May his radiance draw near.

I'm no mathematician, but I know that two times seven is fourteen and Kuan Yin Bodhisattva is fearless in fourteen ways, all of which he bestows upon living beings. Four times eight is thirty-two, thirty-two response bodies, which he uses to save them.
How does he speak the Dharma without using words so that the deaf end dumb can hear? He points to his ear, "Hear! Hear! Return the hearing to the self-nature and the self-nature will realize the unsurpassed path. Look inside yourself. Don't look outside. Look into your own mind to see what the trouble is and then make it peaceful."
America, England, Europe, have long admired Kuan Yin Bodhisattva. Now we hope that he will come from Potala Mountain in the South Sea to shine his light on San Francisco.
--To be continued

Distinguished Visitors
Gold Mountain was recently honored by a visit from Professor Maurice Tseng who came to meet the Sangha and pay his respects to the Venerable Abbot. Professor Tseng, who specializes in classics in the Chinese Language and Literature program at San Francisco State University, has done advanced studies at Yale, George Washington University, and Berkeley, and had taught at both Yale and Berkeley.
He is shown in the picture here with one of his students, Upasaka Kuo Yu Linebarger. Upasaka Linebarger, a close disciple of the Venerable Abbot for many years, is currently working for a Masters degree at State University, and is intimately involved in the translation of Buddhist texts at Gold Mountain.




AUTHORS VISIT GOLD MOUNTAIN

Among other recent visitors to Gold Mountain were Mr. & Mrs. Stowell Rounds from Wilton, Connecticut, who recently moved to Tucson, Arizona. Mr. Rounds is a lawyer and author of law texts, and in this regard he has, for the last ten years, kept material on tax laws current by authoring and revising books in this area.
Mr. & Mrs. Rounds were very pleased to have the opportunity to visit with the Sangha of Gold Mountain, join the Sangha in a vegetarian meal, and attend the Avatamsaka Dharma assembly that afternoon. They appeared to especially enjoy meeting with the Venerable Abbot. Following the meal Mr. Rounds wished the Abbot well and said, "I am extremely pleased that I have been allowed to come here, and am very happy to see a living example of such a great Eastern religion actually being practiced here after having been successfully planted on Western soil. I wish all of you and this Monastery a long life."
Their son Kuo Chou (David) Rounds, a disciple of the Venerable Master's, graduated with highest honors in English from Harvard in 1964. He spent several years working as an education reporter for a newspaper in Mt. Vernon, New York, and published his most important piece of writing to date, a novel, Coalitions, in October 1970. He is currently editor of the Napa County Record. In his spare time Kuo Chou teaches an advanced course at Gold Mountain Monastery in the structure of English and its effective use in composition.