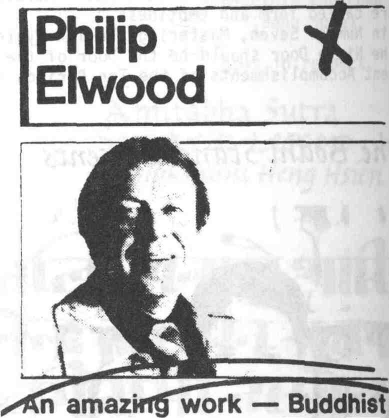 philosophy in rock and pop
I may be wrong, but I think there are more people making more new kinds of music in more independent recording projects in the Bay Area (and toward )than in any comparable geographical area in the world.
Trying to keep up with the live-music performances in this region is bad enough — try, sometime, to list all the recording groups, and studios, and new musical ideas that seem to be everywhere from Santa Clara County to Mendocino and beyond.
For instance, I recently was sent a recording called "Awakening" (subtitled — "Ancient Wisdom for Modem Ears"). Glancing at the description accompanying the LP, I noticed the claim that "Awakening's 10 songs bring the wisdom teachings to life in western musical styles ranging from pop to rock, to folk and country, covering Bodhisattva vows, I-ching, Ch'an meditations, etc."
"Buddhist rock'n roll?" I thought to myself — "this I've gotta hear."
Well, folks, this Awakening disc purely as a recorded musical experience is an astonishing work or art. I'm not prepared to deive into the philosophies expounded in the lyrics (although they're familiar to anyone who has read a bit of the Book of Changes, or I-Ching) other than to say they are beautifully written, brilliantly recorded and gorgeously arranged.

The words and music of Awakening are written by Bhikshuni Heng-yin, who apparently is responsible for the soprano vocals. Heng-yin also did the translations, which end up with such titles as "Turn the Light Around," "Magic Circle." "Here Today Gone Tomorrow," and "My Body," a track which has gained some FM airplay in the Bay Area.
Some of the accompaniments are country-folk, some are kind-of barroom funk (like "My Body"). "Way Out West" has ringing Nashville-style pedal steel guitar sounds; "Gotta Do Somethin'/Might as Well Cultivate" is, on the other hand, a multiple voice overdubbing that has the ring of a million-dollar production job out of Hollywood (or S.F.'s Automatt).
The Awaking LP was recorded, engineered and mixed by Warren Dennis at Beggar's Banquet Recording Studio in Sebastopol. Accompanying Heng-yin are Daniel Jones, pedal-steel; Mardell Mardeaux, violin; Fred Wetterau, clarinet; Dough Harmon, cello; Grant Johnson, piano, and others-Celia Hollander is an occasional vocalist.
A quite remarkable project Available through Wondrous Sound Music. City of Ten Thousand Buddhas. Box 217, Talmage. Calif. 95481, or Gold Mountain Monastery,
1731 15th St., San Francisco 94103.