News from the Dharma Realm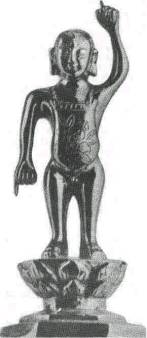 The Buddha's Birthday
Before the Buddha came into the world, the world was in darkness and people's minds could not be illumined. It was as if the tight of sun and moon did not shine. Once the Buddha appeared in the world, the opportunity existed to dispel the darkness of ignorance and be bathed in the gentle light of true principle. Three thousand five years ago, Sakyamuni Buddha was born into the Saha world and very quickly his good roots matured and he realized the sole important task in a "lifetime--the One Great Meaning discussed in the Lotus Sutra—was to unravel the problem of birth and death.
Having done so, the Buddha leaves us a legacy of instructions, based on his enlightened perception and dispensed with expediency, to help us solve the same problem.
On May 18th at the City of Ten Thousand Buddhas, and on May 21st at Gold Moun­tain Monastery, disciples and friends of the Dharma will gather to pay rever­ence to the Buddha, rejoicing in his birth.
The symbolic act of bathing the infant Buddha brings efficacy in proportion to the amount of faith and sincerity one brings to the ceremony. The act represents a renewal of purity, a washing away of past defilements and a chance to begin fresh and try to do better.
From beginningless time, until today,
All the evil karma I have made,
With body, mouth, and mind, in word and deed,
I now repent of it, entirely.
Deep beneath the layers of hate and greed
Within us all lies a Buddha seed.
Cultivate it well, water and weed
And feed it with the strength of morality.
Don't look back, only look ahead.
Yesterday's mistakes were made by one now dead.
The one who stands before you was born today.
And dedicates the future to the Buddha Way.
-Don't Look Back
By Bhiksuni Heng Yin from Songs for Awakening.
Plan to join in these solemn and joyous celebrations and invite your friends and family. The days' worship services will begin at 4 A.M. and continue throughout the day with ceremonies, rituals, meditation, bowing, a vegetarian feast, instructional talks, and opportunities to bathe the infant Buddha.
FROM THE BUDDHIST TEXT TRANSLATION SOCIETY:
El Comite Publicador de la Biografia del Venerable Maestro Hsuan Hua publico recientmente una traduccion espanola del primer tomo de Records of the Life of the Venerable Master Hsuan Hua bajo el titulo Relaciones de la Vida del Venerable Maestro Hsuan Hua. Esta obra biografica es un documento de gran valor espiritual que narra los acontecimientos milagrosos y conmovedores ocurridos durante los primeros trienta anos del la vida del Maestro. Contiene tambian dos apendices descriptivos de las instintuciones, las publicaniones inglesas, y las actividades de la Asiciacion Budista Sino-americana. 150 pages. Now Available.
DRBU IMPORTANT DATES:
Last day to apply for admission for Fall, 1980 is AUGUST 1. 1980.
Last day to apply for financial aid/scholarship for Fall, 1980 is JUNE 1, 1980.
FALL SEMESTER BEGINS: SEPTEMBER 13,1980.
Last day to apply for admission for Spring, 1981 is DECEMBER 31. 1980.
Last day to apply for financial aid/scholarship for Spring 1981 is AUGUST 15, 1980.
SPRING SEMESTER BEGINS: JANUARY 21, 1981.
DHARMA REALM BUDDHIST UNIVERSITY Summer Program: SELECTED COURSES
Chinese 180. Topics: Poetry in Chinese Painting. This course will be taught by visiting lecturer Professor Cheng Yen. July 21-August 1.
Buddhist Studies 132. Meditation in Active Life. This course will be taught by Dharma Master Heng K'ung. July 21-August 1.
Fine Arts 40-41 Contemplation of Three Dimensional Forms. Professor Chowe, a working artist at the City, will teach with energy and help provide direction and support for interested students. 10 weeks beginning June 26th.
Fine Arts 198 Ceramics. Miss Koch will begin classes on ceramics making use of the new kiln at the City. 10 weeks beginning June 9.
Chinese 137 Chinese Cosmology in Chinese Poetry.
Professor Hsing Tsun Lee w111 offer this intensive course from July 9-18.
General Studies 180. Topics: Conceptual Development of Quantum Physics. This course, taught by Dr. Zukov, will run July 21-August 1.
Buddhist Studies 134. INTENSIVE MEDITATION WORKSHOP. This Ch'an session will begin the summer program, running from May 30-June 6.
Buddhist Studies 134. INTENSIVE RECITATION WORKSHOP. A week of recitation will end the summer program. The dates are August 30-Septeiiiber 6.
DRBU: STUDY OF THE SHURANGAMA MANTRA
This unique course is offered this semester, will continue through the Summer Program and will be available again in the Fall. The Venerable Master Hua is using original four-line verses to capture the meaning of each line, phrase, and syllable of the Mantra. This unprecedented approach to the study of mantras first took form when the Master annotated each line of the Great Compassion Mantra in verse. That lecture series is contained in the Dharani Sutra, available from the Buddhist Text Translation Society. The current lecture series is also being published by BTTS, the first volume will be available SUMMER 1980. "The power and function of each syllable of the Mantra are inconceivable, "says the Master. "You could say that they are both real and illusory. They are real in the sense that when demons and adverse spirits and adherents to deviant paths encounter the power and function, they are actual and undeniable in scope and magnitude. They are illusory in the sense that the power and function of the mantra do not belong to the one reciting, but to the mantra itself. The power and function are not yours, and in this sense they are illusory." The Surangama Mantra is a "pure, white Dharma," as its heart reveals in the Great White Canopy. As long as this Mantra remains in the world, evil forces cannot prevail.
My Master's Birthday is more than just a day
It is a day for relentless rejoicing
For ever since that day he's been busy
Saving us all from birth and death.
To Shih Fu on the occasion of his birthday
From his disciple Kuo An Stuart