Songs for Awakening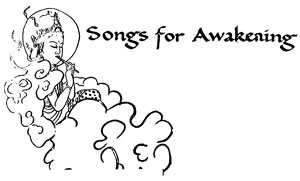 INTRODUCTION
Each language has its unique features, and its own means of poetical expression. When poetry is rendered into song, the words and music must harmonize. The ability to do this is an art acquired through long experience.
Mahayana Buddhism has been practiced by the Chinese Buddhists for a long time, and religious chanting has always been a part of monastery life. The Chinese way of chanting Sutras, however, differs from the original Indian way, simply because the languages are different.
In the sixth century. Master Hui-chiao wrote in the Kao-seng Chuan (Biographies of distinguished Monks), "Since the Great Religion (Buddhism) was introduced to the East, works of translation have been many, but the sounds have seldom been taught. This is because the Indian pronunciations and tunes are complicated while the Chinese words are of one syllable. If Indian tunes were to be used to chant the Chinese versions, one would find the music too short and the words too long. Therefore, the Golden Words have been translated, but the Indian tunes have not been taught."
The Chinese Buddhists, after the Three Kingdoms Period (third century), learned to chant the Chinese version of the Buddhist Canon in the Chinese way. This is called the chuan-tu, or "turning the Sutra." The chanting of Buddhist verses was called fan-pai, "Brahma chants."
New centers of Mahayana Buddhism are found in the Western world today. At the City of Ten Thousand Buddhas in Talmage, California, I have seen Chinese and American Buddhists practicing Mahayana Buddhism in the authentic conventional way. Besides that they are working hard to translate Sutras into English, mainly from the Chinese versions. They are also composing English poems and tunes in order to be chanted by English speaking people. I feel that both the verses and tunes are elegant and peaceful. This is a valuable task because it introduces simple and clear ideas to the followers. Easily understood by young and old, it can be regarded as a proper style, suited to the unique features of the English language.
Ch'eng-hsi,
Professor of Chinese
University of Iowa
Iowa City, Iowa
August, 1979