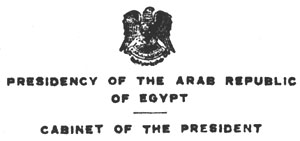 Cairo, April 17, 1979.
Dear Mr. HSUAN HUA,
It is my great pleasure to convey to you the thanks and recognition of His Excellency President Sadat for your kind message in which you set forth the importance of education in instilling virtuous and constructive ideas into the minds of the young people.
Highly appreciating your noble sentiments towards him, represented in the unanimous decision of the Dharma Realm Buddhist University's Board of Trustees to name him as an Honorary chancellor of the University, His Excellency the President earnestly hopes that harmonious relations between people from different cultures and national backgrounds will be promoted over years.
Kindly accept, most sincere regards, wishing you all the best of health, happiness and success.
Hassan Ahmed Kamel

Chef du cabinet of the President
MR HSUAN HUA
DHARMA REALM UNIVERSITY
P.O. BOX 217,
TALMAGE, CA 95481.