with the commentary of
Tripitaka Master Hua
translated by Bhikshuni
Heng Yin
reviewed by Bhikshuni
Heng Ch'ih

Sometimes they become yeh kan/ The yeh kan is a kind of fox. They are even more cowardly than foxes and they have more doubts, too. In past lives, they looked down on those who read, recited, bowed to, and lectured the Dharma Flower Sutra, and so they become yeh kan. And, entering villages/ Sometimes when their karmic obstacle obstruct them, they go into human settlements. Why do they do this? Because they are sick and have nothing to eat.
Their bodies covered with scabs and sores/ Their brains get addled and they can't think clearly at all and they go into town. The scabs itch terribly. And also missing an eye/ by young children/ they are beaten and stoned/ When the children see a sick animal coming into town, they beat it with sticks or throw rocks at it.

Undergoing all this pain/ When the sticks and rocks hit the scabs and sores, the animal is in even more intense pain. Even to the point of death/ With a large rock they may hit it on the head and kill it.

Having died like this/ they are born in the bodies of huge serpents/ their bodies as long/ as five hundred yojanas/ deaf, stupid, and without feet/ they writhe about on their stomachs/ by many small insects/ they are stung and eaten/ On the bodies of these huge snakes are many parasitic insects who devour their flesh and blood so that they are undergoing suffering day and night/ without respite/ The bugs eat them all day and all night too, so that they never get a break from their suffering. Would you say this was severe punishment or not? Why must they undergo it? For having slandered this sutra/ they suffer retribution such as this/for slandering the Dharma Flower Sutra.
If they become, humans/ all their faculties are dim and dull/ If they should perhaps become human beings. "Faculties" refers to the eyes, ears, nose, tongue, body, and mind. It can also refer to the arms and legs. When they become people they can't see or hear clearly, they can't smell and their sense of taste is blunted. Their sense of touch is not precise and their minds are extremely stupid and they lack wisdom. They may also be missing an arm or a leg. All their faculties do not listen to their instructions. They may instruct their eyes to look at something, but it will be five minutes before they get around to looking at something. The same goes for their ears and nose. This is because thy are dim and dull. "Dim" means stupid and lacking wisdom. "Dull" means that they are very slow.
They are squat and ugly, palsied, lame/ "Squat" means they are very short, maybe three feet tall and three feet wide, sort of like kumbhanda ghosts. "Ugly" means hideous. Not only are they very short, but they are horrible in appearance. Instead of two lips, for example, they might have four; Their limbs might be split in the middle, that is. One eye might be as big as a ball and the other as small as a soybean. Really ugly; "Palsied" means that they don't have control of their limbs, for example, they can't stretch out their arms or legs or their back is bent over like a bow ready to shoot an arrow. Blind, deaf, and hunchbacked/ When you see people like this you can know that limitless aeons in the past they slandered the Dharma Flower Sutra. You should be able to recognize them. You don't need the Penetration of Others Thoughts, the Heavenly Eye, or the Knowledge of Past Lives. You just need to remember that it said very clearly in the Dharma Flower Sutra that people like this have slandered the Sutra.
Whatever they may say people will not believe/ No one will ever listen! When they talk, there will be an edge on their voice they may sound something like a dog barking. Their breath ever stinking/ This bad breath comes, number one, because they slandered the Sutra, secondly, because they are always sick and their digestion is poor and whatever they eat will fail to nourish them. Sometimes people may have bad breath when they are sick with a cold or the flu. Some people may have a kind of metallic energy, which smells like bad breath, but which they actually use to subdue heavenly demons and control those of outside Ways. They are cultivators of the Secret School. If you always recite the Lotus Flower Sutra, your breath will smell like a blue lotus flower. This is discussed later in the Sutra.
They will be possessed by ghosts/ They will be possessed by ghosts and by mei. (yen mei.) such as kumbhanda ghosts, who will cause them to be afraid. Poor and lowly/ the servants of others/ always sick and emancipated/ with no one to rely upon/ Not only will they have an the above mentioned problems, but they will also always be poor and have no money. Lowly means they will always do the lowliest type of work. They will be used as servants of others, doing their bidding. They will continually be sick and therefore extremely thin. With no one to rely upon/ No one will take care of them at all. If they die, even, their corpse will just lay there in the street for the dogs to eat. No one will pay any attention to it.
Although they draw near to others/ others will never think of them/ They have no one to rely upon, so they may look for someone. They may draw near to someone being very flattering and buttering them up, but no matter how sweet they are to them, the person win pay no attention to them at all. If they gain something/ they will immediately forget and lose it/ If they study the Buddhadharma, and recite a Sutra, as soon as they recite it working very hard until they remember it, they forget it. When they quit reciting, right away they forget it. If they study the ways of medicine/ If they learn to be doctors... In Chinese medicine one speaks about the "four energies," chill (

); heat for fever(

) warmth(

), and coolness(

). There are also balanced or neutral
(

) drugs that do not incline towards warmth or coolness.
Chinese medicine also speaks of 1) looking(

) 2) hearing or smelling(

) 3) asking(

) and 4) pulse(

). Those who truly understand the science of medicine do not, need to diagnose, they just take a good look at the color of the patient's face to know where the sicknesses lie. It is said, "To be able to tell just by looking is called 'the spiritual' (method). Hearing and knowing is called 'the sagely' (method)." Perhaps they will listen to the sound of the patient's voice or smell the patient's breath. (In Chinese the word for hearing is also the word for smelling(

). This is the way a sage does it. "Asking and knowing is called 'work.'" They may ask the patient for symptoms such as, "Do you have a headache?"
"No," the patient replies, "my stomach hurts." Then they would know.
"Feeling the pulse and knowing is called 'using craft.'" By feeling the pulse they can tell on which meridian the sickness is located. This is called craft. These are very important principles in the study of medicine.
As to the pulse, it may be 1) floating(

), 2) sinking(

) 3) slow(

), 4) fast(

), 5) slippery(

), 6} still(

) 7) hollow(
). I have studied all these books.
I have studied all these medicine books, but I was afraid of "curing people to death" so I didn't become a doctor.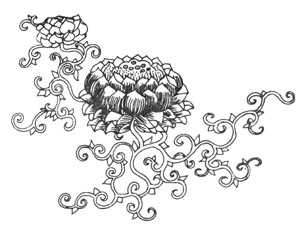 One day King Yama got sick and wanted to find a doctor to cure him. He sent one of his ghosts to find a doctor for him. "Which doctor shall I get?" said the ghost.
King Yama said, "Well, you are a ghost, so you can see ghosts. Take a look at the doctors' doors and whichever one has the fewest ghosts; ask that doctor to come. He is probably the best doctor because he has cured the fewest people to death."
The ghost went off, and pounded the street At the door of every doctor were many hateful ghosts shouting out things like, "You gave me the wrong prescription and cured me to death" There were a lot of them. Finally he reached one doctor's door and saw only two ghosts there. He invited the doctor to go cure King Yama.
King Yama asked him, "How long have you been a doctor?"
"I just started today," he said.
King Yama said, "Oh, you started today and you already have two ghosts at your door; Good grief, I can't use you for my doctor; I'd better find someone else."