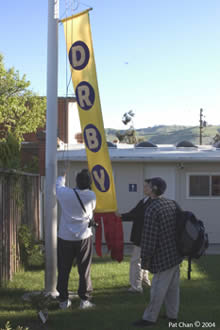 Sufferings in college…
The Four Noble Truths is a good place to start. First, there needs to be an identification of what really is suffering, so that the Dharma, which is spoken as medicine, can heal the suffering living beings feel.
So, as college students, Pei Ling and I can say where it is that we see ourselves and our classmates hurting. From there, I think it will give a better sense of what Dharma is appropriate for students and the youth. I feel very fortunate to have found the Dharma and to have something to depend upon in life. I look at some of my classmates, however, and I see my friends not having that ground to stand on, but rather often feel lost and confused. This is a pretty common feeling for college students as they get closer and closer to graduation.
The main place where college students are hurting is the sense of directionlessness in life or the fear of getting stuck in something that is meaningless or doesn't keep their interest. They have a great fear, myself included, that they will just get into a job that is not meaningful and live their life that way just going through the motions. One of my friends came into my room just to talk, and she started telling me how she felt really lost and confused and has slowly become more interested in Christianity. She felt that society and the people around her told her to find the passion she had in life and to pursue that, but she really did not feel like she had any. She didn't know what to do. There are actually many stories I have relating to this topic, and I believe that if you ask any of the DRBY participants they can explain this feeling.
Another place of suffering is the relationship with parents. In America, the idea of "filiality" is not very strong. Parents and children often fight and possibly don't even speak to each other. Each case of course is different, but I wanted to mention this because filiality is a principle that I really see being able to benefit the people around me. For instance, I remember one DRBY member who went to CTTB and had a deep respect for DM Lyu and would sincerely ask DM Lyu for teachings and corrections. At one point, he asked DM Lyu that after staying at the City for a while he realized that he maybe should go back to take care of his parents. He expected the answer to be, "No you should stay here and cultivate!" But rather, DM Lyu supported the idea and in two days he was flying back home across the country to stay with his parents. I remember him telling the DRBY members there his thoughts on going back and what stuck with me was the sense that he wished he had known the concept of filiality when he was younger so he wouldn't have done so many stupid things towards their parents. The youth growing up in America need this, and we, as the youth, need this in a way that makes sense.
Here's another story. One morning when going to meditate with BCAS, I found one of my friends from Stanford who graduated a few years ago lying on the couch. He woke up and sat in meditation with the meditation group in the morning. I thought, "Well, that's an interesting way to make sure you get up for morning meditation." However, after the sit, I thought he looked a bit lost, so I invited him to breakfast. Here is when he told me his story of looking for the Dharma. He was in medical school at Stanford, but he felt that he needed to find a spiritual teacher. He went off and lived like a homeless person down the coast of California visiting Japanese and Korean Zen monasteries. He met many different people, but at the end his parents wanted to see him, and when he returned, his parents had him see a psychologist who diagnosed him as being 'psychotic,' and so they put him in the patients ward in the hospital. From there, he tried to escape a number of times and when I met him at the meditation place, he had managed to escape. At this point, I was pretty shocked. But I told him about Rev. Heng Sure being a good teacher, and so I know later that at one point he gave Rev. Heng Sure a call. Actually later I found out that the police were after him, and I was pretty worried about him. I actually don't know whatever became of him, but I got a deep sense of how grateful and fortunate I am to have found DRBY and good Dharma friends that serve as reflection for myself to keep me in balance as well as having a community of cultivators. I wished my friend had found that earlier on because he had the heart but no good instructor.
I can say a lot more, but I think you get a sense of what the youth face today.
To balance out the presentation, I also want to point out that many college students are very bright, 'yang' and idealistic. They hope to make a positive impact in the world and are full of talent and blessings. For instance, we just had the DRBY conference, and I think you saw many of the students who had that happy and carefree, zi zai, personality.
Essentially, there is a definite need for the Dharma in the next generation, and I'm hoping that what I shared here might help motivate everyone to want to be part of this. I feel like this is a "request for Dharma" on the part of DRBY. But I realize that the request for Dharma needs to also include us really sharing with you the difficulties we face, so that the Dharma can connect and heal the suffering in our lives. For a while, I complained to myself that somehow the Dharma did not make sense in daily life, but then I realized it was because I never really explained what were the problems in my mind.
I believe everyone is already working hard in this effort. The DRBY conference we just had was only possible because of your support and strength. I know that many people are very grateful. A response from one of participants at the conference:
The conference has been a very memorable experience for me, and I am filled with a lot of gratitude for everyone who made this conference possible… The whole experience of living at this monastery, performing the ceremonies with the nuns and everyone else, eating with everyone in silence, etc.—all weaved together to create an experience that really touched me. I've felt so peaceful here and light at heart.

So I just wanted to thank you all for putting this conference together—you really are making a difference in people's lives. In the last couple days, for instance, I've decided to switch to vegetarianism. =)

As you can see, the Dharma when presented in an accessible way really makes a difference.
Finally, why am I giving this presentation? It is because I really see the potential here at Gold Sage to really be able to keep the Dharma wheel turning. Although what I have said so far may be too idealistic, I still wanted to present it. We can take small steps. Gold Sage is the ideal place because it is near San Jose and a number of college campuses. There is a strong lay community along with the new and growing DRBY support. I do not know if my sense is correct, but I feel like after leaving home and deciding to dedicate your lives to follow the Buddha's teaching it naturally entails a wish to teach the Dharma for the next generation. So, again this presentation is a "request for the Dharma" for my generation. However, because Buddhism is still new to America, DRBY needs to do more than just ask, but also has to provide the material and tools required to make the Dharma alive for the youth growing up in America. My wish is that everyone, Dharma masters, lay people, and DRBY can work as a team on this project, and I believe that if all of us are working together, then we can really be able to keep the Dharma alive. I have many thoughts, but I would like to ask at this point your thoughts, and suggestions.
Here are a number of starting places to begin building the foundation for Buddhism in America at Gold Sage.
1.DRBY Roundtable: East and West
A chance to give Dharma Talks to DRBY and get feedback on what was said. Also, DRBY can have sessions where we just present our experiences growing up in America. Explaining the World the Youth Face Now in America.
The Buddha spoke the four noble truths, suffering, accumulating, extinction, and the way. I can provide to the community here a sense of what is the "suffering" that the youth now experience. The Dharma is like medicine, and so your talks can then be addressed to that. This is actually why I feel like I must do this. DM Yun talked about having something in your pocket that you couldn't give the youth. Well, I can tell you where our generation is hurting and maybe you can speak to that.
2.English classes
I think if we combine the Dharma Talks with the English classes then the English classes become more relevant because you can use what you are learning in class. Similar to taking classes in college, there is an element of learning the theory, but then you have to apply it to really get it.
3.Serving as a Model
Gold Sage is unique because it is so well situated to be near society but not quite in it. I believe everything that we can learn together can be shared with other people as well. I think there are many people wondering how to teach the next generation, and I feel like each of you can make a huge difference just by sharing whatever you learn with other people who care about passing on the Dharma to the youth.
4.Beginning Ch'an class
Westerners like meditation. Another chance to speak Dharma and cultivate.
5.Venerable Master Hua's tapes. [Primarily for Westerners and college students]
For myself, I feel Master Hua's teachings for college students would be more appropriate for my conditions being at college. From these tapes we can learn from how Master Hua uses his wisdom at seeing conditions to explain Dharma for Westerners and the youth.
6.Family Retreat, Cherishing Youth Day, and Current Activities
A chance to bring the Dharma masters, the laity, and the youth together to do wholesome things in the world.