Looking back at my life so far, Buddhism has influenced my life in many aspects. Today, I would like to share how Buddhism has impacted me to take some major milestones in living a meaningful life. I will start from the point I took refuge with Venerable Master Hsuan Hua.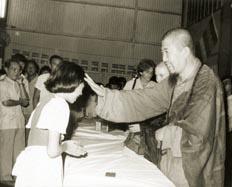 When I was 7, my mom took our whole family to the temple to take refuge with the VM (during his Malaysian dharma propagating trip in 1988). I have a few vague memories about this event such as
1) waking up really early in the morning to greet the arrival of the whole delegation at the airport.
2) the very long queues to bow in front of the VM, who would be sitting somewhere and at the same time, people would hope that the VM would bless you with his stick while hitting away your bad karma
3) candies were given to children during night dharma lectures
4) getting his photograph after the refuge ceremony —the one with the yellow border and Shr Fu holds a whisk sitting cross-legged.
5) after the ceremony, while holding Shr Fu's picture, I was in tears not knowing why as I was instructed by my mom to bow to my new Shr Fu.
My family's lifestyle gradually changed from then on. The first major change was our diet, which did not happen immediately, but took some work and patience on my mom's part. My mom first became a vegetarian and she tried to convince the whole family to be vegetarians as well. It must have been a tough challenge for my mom because my grandmother, uncles and aunties were completely hostile towards the vegetarian diet. They couldn't understand why vegetarianism?
I remembered vividly on one incident, when none of us were vegetarians yet except my mom, my whole family including my uncles and aunties were having a celebration at a seafood restaurant. My mom was not there and my uncle, being humorous wanted to remind my mom that her daughter was eating meat. While I was in the middle of the meal, he took out his camera and asked me to pose next to my giant prawn dish, so he could send that picture to my mom later.
When I was trying to be a vegetarian, my extended family, being very concerned, would constantly tell my mom that I was still growing and needed all the possible protein from meat. Years later and after several tries I finally became a vegetarian together with my sister and father. This was the first major positive influence that Buddhism has brought to my life.
As a vegetarian, I began to experience and understand compassion. I was glad for not having to harm other living beings to sustain myself. Without my mother's initial resolve to seek the path, I may not have had the chance to encounter Buddhism and consequently not have the opportunity to awaken to the possibility of such harmless diet.
Another milestone in my life was taking up the vows of the 5 precepts when I was fourteen during Shr Fu's birthday ceremony in Sacramento back in 1994.
At that time, I was taking the precepts voluntarily together with my mom because I somehow understood that was what Buddhists do next to deepen their practice. However, I have a crude understanding of the 5 precepts. I figure that as long as you did not violate the precepts physically, then you are upholding the 5 precepts. At that time, I was not aware that there are two levels to upholding the vows-- the physical level and the mind level. Although my understanding of the 5 precepts was crude, it nonetheless has positively influenced my teenage years.
After receiving the vows of the 5 precepts in Sacramento, I was back in Malaysia and life went on as usual. The 5 precepts did not seem like a big deal to me throughout my high school years, as I was fairly sheltered by my parents. I didn't see the value of the 5 precepts until years later when I went to an art college in Malaysia. The 5 precepts began to surface more visibly in my consciousness and life. During my college years, I had more "freedom" and was building my social network. Keeping these vows made me different from the average "normal" crowd.
For example, in the beginning, my college friends were mildly teasing me about my vegetarian diet, but they eventually accepted my diet and were respectful about my needs as they know me better. Although, there were times where I had struggled to find balance for my difference from the "normal" crowd, I usually end up feeling relieved of my different lifestyle.
Knowing the 5 precepts since young had helped me in college to naturally stay clear from all major negative behaviors without having to think much. On many occasions, I thought to myself, " Am I not glad that I have taken the 5 precepts but I might end up being the "normal" crowd engaging in all sorts of negative behaviors such as drinking, smoking or casual relationships"—all of which could harm myself physically and emotionally. Of course during that time, I wasn't mature enough nor have the wisdom to really see the consequences that entails these negative behaviors.
Now looking back, the 5 precepts that seem like rules at that time, were instead wisdom that kept me liberated from unnecessary mess and harm during my naive, immature, young-adult life. Without these precepts, I may have made unwise choices and would be stuck with unfavorable consequences or mess for me to clean up later in life. I am still very thankful for the precepts for shielding me from all the possible unnecessary mess.
Upon graduating from the art college in Malaysia, I came to the states to continue my studies. I was lucky to have a sister living at City of Ten Thousand Buddhas (CTTB) at that time. So, CTTB became my natural choice of stay in this new country while applying to universities. Living full-time in CTTB for 5 months, I was surrounded by the monastic and sincere lay cultivators twenty-four seven. Although I had been going to the Malaysian branch temple every Sunday for the previous eight years, I felt like a newbie to Buddhism. This monastic immersion became my next major milestone.
At CTTB, I was given countless opportunities to offer service to others. From morning to night, I was busy doing things not for myself, but for the community. Interestingly, this time was one of the most tranquil times of my life. I remembered that once, laying on my bed in my room at "Fu Ju Lou" , I had a thought, " I own so little here, I don't have all my things like I do in Malaysia, this is not even my room, everything here is minimal, yet I am joyful, tranquil, and satisfied. Why is that?"
I realized that back home, I spent all my time daily thinking about what I can, need, or have to do for myself. In contrast, at CTTB, it is actually okay to not think about yourself. This environment had given me the chance to experience life as it really is without the constant fear of protecting that "self" or finding ways to build a life for that "self".
Over the years, CTTB and Dharma Realm Buddhists Young Adults have introduced the concept of the bodhisattva path to me. I learn that the bodhisattva always wish others well. Although I am not even close to practicing this bodhisattva path, I am nonetheless, very happy and feel very blessed to be exposed to this concept.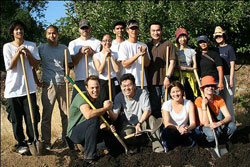 This idea of wishing others well or even better, wishing others to be more blessed than ourselves, is not a common concept we can casually pick up in this modern world. In fact, I think that this concept does not even exist in the minds of some people. Not knowing this concept is like loosing a precious gem because I will not be able to live a life that is truly free, contented and joyful if I am constantly thinking about myself and ways to get ahead of others. I am glad that Buddhism allows me to explore a different option - one that actually liberates - in living this life.
Throughout the years of studying Buddhism, I have met many good Buddhist friends. I've met many people who strive to be better humans in their actions and also from within. As Shr Fu said, if you are smeared with a red crayon, you will be red and if you are smeared with green, you will be green. Surrounded by these good people have always without fail, inspired me to be a better person. As we also learn best by seeing examples, the good dharma friends I've met have modeled to me many ways of being a good person. I am very lucky to constantly see people who actually walk their talk.
I have been using the term "Buddhism" as "something" that has positively influenced my life. However, I realized this "something" or "Buddhism" was not brought to me by a higher force nor was it a package with instructions that fell from the sky. It was the people—parents, families, teachers, elders, friends, writers, translators, speakers, and not excluding people who gave me afflictions-- that brought and made Buddhism real to me. Without these humanistic relationship and ties, Buddhism would never come close to my understanding.
So, I would like to take this opportunity to express my gratitude towards all beings and hopefully, I can always remember their kindness.