The annual RED was held on October 29, 2006. Below is a capture of the programs of the day.
Each of the elderly arrived at GMM in their neat dresses and wore a smiling face.
The elderly were eagerly chanting or learning to chant the Guanshryin Bodhisattva Universal Door Chapter of the Lotus Flower Sutra in the Buddha Hall along with the Dharma Masters and the laity attending the RED.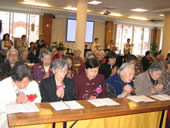 Some elderly were chanting the Universal Door Chapter the first time and they were chanting attentively. This was an opportunity to plant the Bodhi seeds in their minds, which would certainly bear fruit one day.
Dr. Yuen was giving a health talk to the elderly and his topic was preventive measures against heart attack.
Dr. Yuen was demonstrating to the audience how to work on the life lengthening pressure point for maintaining good health. The audience was listening and watching attentively.
At the Five Contemplation Hall, the Dharma Master giving the opening speech spoke about the history behind the initiation of the RED by Venerable Master Hua, founder of the Dharma Realm Buddhist Association (DRBA). It was a means to remind us not to forget the huge contribution made by the elderly to the society.
Volunteers were happily serving delicious food to the elderly guests.
The elderly were enjoying a variety of entertaining programs while they were also enjoying a variety of delicious vegetarian dishes.
Three most elderly guests were invited to join the cake-cutting ceremony. The students of the GMM Chinese School sang the birthday song, entitled "Wish the Elderly Happy".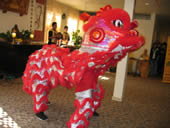 The Boy School of the DRBA was performing a lion dance. Their lively performance earned a loud applause from the elderly audience.
The Tzi Chi Charity representatives were giving a sign-language singing performance. Their kind smiling faces during their performance made one feel that Guan Yin Bodhisattva was around.
The San Francisco Health and Beauty Art Performance School was performing the Yuen Zi Dance, known for its effectiveness in enhancing the flexibility of our body.
The Boy School of the DRBA was giving an outstanding Chinese music performance, at times like water flowing down from a high mountain and many horses galloping at a high speed.
The last program was the climax of the day: All volunteers and the elderly sang "Amitahba" together. All were enjoying themselves with the song and the accompanying body exercises.